Passion and hard work yields success
August 2019

'Never miss school and when you are grown-up, be a responsible husband and father. Live and work the land – everything comes from the soil. Make friends with the soil.' these were the words of advice a young Sandile Khumalo received from his father years ago.
Sandile was born in the Pongola district of KwaZulu-Natal and grew up with the responsibility to work the fields. He fell in love with farming and realised early in his life that agriculture will play a major role in his future. He graduated from the Lowveld College of Agriculture in 2011 where after he furthered his studies at the North-West University in Mafikeng on a DAFF bursary.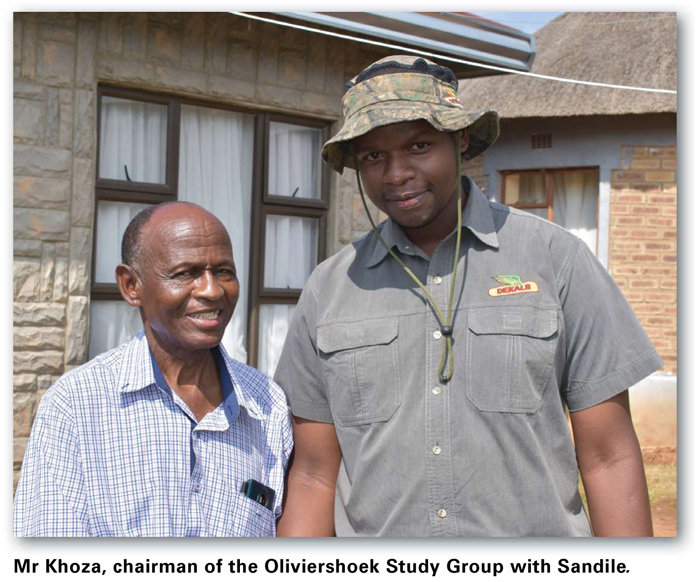 In 2016, Sandile's application for an internship at Monsanto was successful. This was an opportunity the young man grabbed with both hands and it was clear from the beginning that he would be a valuable addition to Monsanto's personnel. He is in his element when meeting with farmers and explaining the technology to them. It came as no surprise that, after his internship, Sandile was immediately absorbed into Monsanto's 'New era commercial and small-scale farmers' division.
This was a dream come true for the young man. Tony Johnson, an agronomist at the then Monsanto now Bayer, took Sandile in under his wing. Sandile says that he still can remember Tony's advice to him, more than two years ago, when he was still an intern: 'No-one will follow you. Your work speaks for you. You need to do your job, be disciplined and your job will speak for you.' Sandile holds the highest regard for Tony and regularly turns to him for inspiration and support.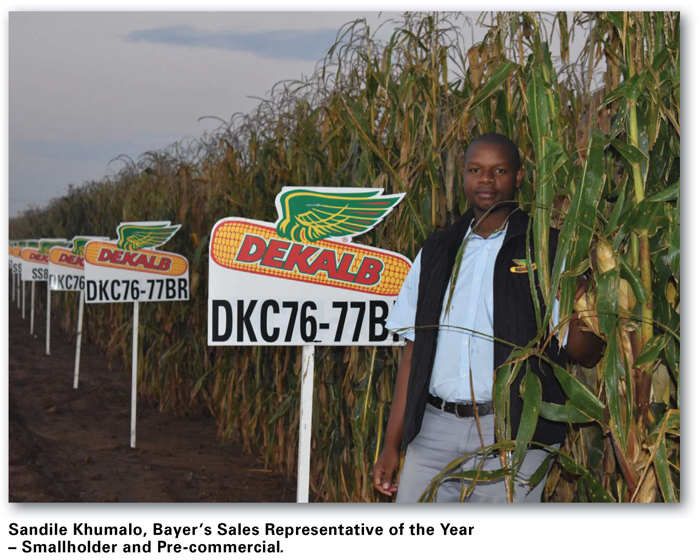 His passion and dedication are clear to see, no wonder that Sandile received the award for 'Sales Representative of the Year – Smallholder and Pre-commercial' at Bayer's posh awards evening earlier this year. The regional sales manager who Sandile works for, Dudu Mashile, confirms that he is a worthy recipient of the award. 'He works hard, with so much integrity and passion. He gives me hope that there is a future for youth in agriculture.'
'I did not expect to win the award. I've been with the company for such a short time. I enjoy my work – I remember my roots and show the necessary respect to the farmers I work with. For me there is nothing better than being a witness to my clients' successes after I have introduced them to new technology and best farming practises', said Sandile.
He is married to Sizakele Khumalo and they have a five-year-old son, Luvo, and 17-month-old twins, Kuhle and Amahle. The family lives in Groblersdal. Sandile dreams of one day owning a farm and carry over his love for the soil to their kids.
'There is no time for politics. Politics is just talking-talking. Farmers need to work united towards taking our country forward and keeping its food secure', says Sandile.
Publication: August 2019
Section: Pula/Imvula