PANNAR's partnership with farmers brings hope
June 2018

In its quest to enrich the lives of farmers, consumers and advance progress, PANNAR made a commitment to provide hybrid maize seed to the value of more than R15 million to various projects across South Africa.
This seed will provide second generation stalk borer resistance over an area of 9 000 hectares, resulting in significant productivity gains.
The PANNAR Seed Project Hope 2018 project was launched in the Eastern Cape in April. Nick Goble, Business Manager of PANNAR, emphasised PANNAR's partnership with farmers and pride in being able to supply first-rate hybrid seed with the latest trait technology to the project. 'We need to grow yields and break the cycle of relatively low yields in Africa to ensure food security for future generations,' he said.
PANNAR is committed to:
A whole-farm approach, meaning that PANNAR considers the entire farming operation and the best hybrid fit to ensure overall productivity and the sustainability of the enterprise.
A multi-crop offer, fulfil all your crop seed needs from a single trusted supplier.
Good agronomic support based on our 60 years of deep understanding of local production conditions.
A sustainable future, increasing crop productivity while we protect our resources.
Collaboration with various stakeholders to learn and develop our skills while incorporating the best technology to advance crop production.
There was an overwhelming gratitude from the farmers with regards to the seed and technical support they are receiving from PANNAR Seeds as well as the performance of the PANNAR products on their production fields in the current season. It is for that reason that they believe the partnership between PANNAR and the farmer groups will yield greater results going forward in terms of yield increases which will enhance the farmer's development but also the range of products which PANNAR offers to the farming communities.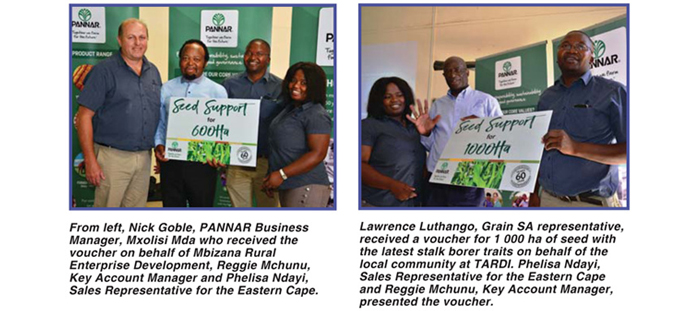 Article submitted by Peet van der Walt, Advertising Manager, PANNAR SEED (PTY) LTD, South Africa. For more information, send an email to peet.vanderwalt@pannar.co.za.
Publication: June 2018
Section: Pula/Imvula