Introduction & Aim
Pre-breeding is one of the most effective ways to achieve the introduction of existing and/or novel genes and/or traits into breeding programs. Typically, the aim of a pre-breeding project (like in this case) is that material stemming from it (usually done in the public domain) is to be introduced, usually, into (private/commercial) breeding programs as crossing parents and/or by direct selection. Thereby enabling stake holder breeding programs to achieve quicker, better results.
Objectives/Work Packages
Stakeholder engagement

Stakeholder engagement is vital to making a modern-day pre-breeding program a success as well as relevant. Stakeholders in the program comprise of the funding bodies and breeding programs. Primary funding bodies include GrainSA, The Department of Science and Technology (DST) and the Winter Cereal Trust (WCT). The recipient stakeholder breeding programs include the ARC-SGI (public), Sensako and PANNAR (both private).
Germplasm gathering and screening

The project acquires and characterizes germplasm on a continued basis. It typically entails field based trials of germplasm gathered from (international) collaborators and self-developed (in single row entries and replicated yield trials) at several trial sites across the production area. Multi-location field trials (MLFTs) for general characterization and yield testing of more advanced lines are also performed in collaboration with breeders.
MS-MARS crossing program

The pre-breeding program is based on a male sterility (facilitated by a dominant sterility gene Ms3) mediated marker assisted recurrent selection scheme (MS-MARS) conceptualized, initiated, developed and implemented by the Stellenbosch University Plant Breeding Laboratory (SU-PBL).
Molecular marker identification

All newly acquired germplasm from collaborators together with all SU-PBL germplasm that forms part of the project is screened employing a standardized, diverse, set of markers annually. Markers included are for disease resistance genes (rust, powdery mildew and fusarium), quality genes (glutenin), agronomic traits (height) as well as yield related markers themselves (Thousand grain weight). Traits directly related to yield components are also currently being pursued in collaboration with the ARC-SGI (also aligned with International Wheat Yield Partnership (IWYP)).
High throughput phenotyping

Drones (Y-framed and quad copters) are currently being employed to facilitate high throughput automated phenotyping. Together with a small local technology start-up, Aerobotics, we are in the process of optimizing the hardware and developing the necessary software and models. The drone platform can already be used to generate 2D and 3D data for field trials which includes plot based RGB and NDVI maps as well as plant height and volume data. The project is also in the process of deploying thermal camera technology this coming growth season that will assist in measuring canopy temperatures.
Capacity building

Capacity building is a very important part of the on-going project and each year several undergraduate Plant breeding students as well as Honours students in Genetics concludes their practical program. Several postgraduate students have also concluded their studies over the past decade as part of the project and are now successfully employed in the wheat breeding industry, and/or larger breeding industry. Currently more than a dozen students are reliant on the program for their projects, and contributing to the success of it.
Seed multiplication and distribution

Germplasm is annually distributed to stakeholders packaged as nurseries. During 2016 i.e. the 11th annual nursery was distributed and consisted out of 295 lines that could either be hand sown (1 package of seed consisting 15g) or planted as yield plots (4 packages of 100g) According to a 2016 survey among the recipient breeding programs on average 44 selections/season are made, and included as either direct introductions and/or crossing parents.
---
Wheat Breeding Platform Launch
Articles
Videos / Radio Interview
---
Stakeholders
Research/Central Institution: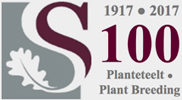 The bulk of the work is done at the Stellenbosch University - Plant Breeding Laboratory in the Western Cape. The facility consists of a modern molecular genetics laboratory, quality evaluation laboratory, glasshouses and several growth chambers which all contribute towards a successful wheat pre-breeding effort.
Funders:
Grain SA lobbied funds from the Department of Science and Technology as the main funding body which is funnelled to the SU-PBL research centre. Grain SA also works in collaboration with both institutions as a bridge to ensure that the initial goals of the project are met.
Breeding Partners:
Since the SU-PBL conducts pre-breeding work, the product released from the effort will be nurseries to be transferred to plant breeding companies to conduct selections from. The beneficiaries of the work who will further the research will be the ARC-SGI, SENSAKO and PANNAR Seeds.