Overview of the markets
January 2020

In this article we give an overview of the global and local maize supply and demand for 2019/2020 compared to the previous season.
GLOBAL OVERVIEW 2019
Global maize production forecast for 2019 have been lowered due to a downward revision in Mexico, however global production is still set to reach its second highest level on record. Consumption for the 2019/2020 season remains flat with demand for food on the rise while feed demand keeps falling especially in the USA.
Trade in 2019/2020 has shown a slight decrease (-1,5%) compared to the previous season's record volume. Global ending stocks are expected to decrease by about 1,8% mainly due to the cut in USA ending stocks.
LOCAL OVERVIEW 2019
According the Crop Estimates Committee (CEC), production forecast for maize for 2019 is about 11,186 million tons, almost 14% less than the previous season of 12,510 million tons (Table 2); with area estimated at 2,301 million tons and an expected yield of 4,86 t/ha. Specifically, white maize is still estimated at 5,538 million tons with a yield of 4,27 t/ha, while yellow maize has been estimated higher by 1,9% at 5,648 million tons with yield prospects of 5,64 t/ha.

Local demand is expected to increase compared to the previous season mainly because of an upward estimate in yellow maize for animal feed. Trade in terms of exports is expected to decrease by 48,7% compared to the previous season, due to a significant decrease in yellow maize exports. Ending stocks are anticipated to decrease by 36%, with pipeline stocks expected to last just over one and a half months.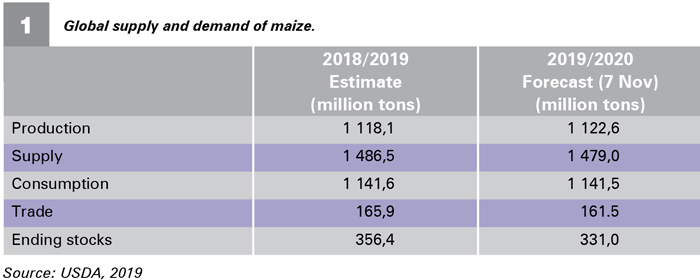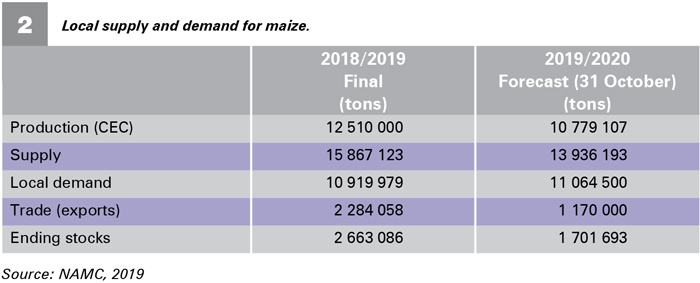 Publication: January 2020
Section: Pula/Imvula