Overseas trends influence crop prices
October 2023

CHRISTIAAN VERCUIEL,
AGRICULTURAL
ECONOMIST, GRAIN SA
Each year when the United States of America (USA) begins its planting season, the international market moves into a weather market. This means that what happens to the USA crop has a big impact on the movement in the market.
In the current season, soybean crop conditions have seen a downward trend from the beginning of the year and was at the lowest point between June and July, when conditions reached a low of 50% good to excellent condition. Currently the crop is in 54% good to excellent condition, compared to 59% the previous season. This caused prices to increase in the international market.
This reaction is called a crop-scare rally. When weather conditions improved, this rally ended and prices again came under pressure. On 30 June, the United States Department of Agriculture (USDA) released a report indicating that the soybean area planted was 5% higher than initially expected and that the maize area planted was 5% lower. Thus, improving weather and higher hectarage put maize under pressure, but the report was able to minimise the downward price movements for soybeans.
Prices again found support after Russia announced on 17 July that it will not extend the Black Sea shipping deal between Russian and Ukraine. This deal entailed that cargo vessels can sail the Black Sea region freely, without the threat of military action by either side.
Russia claimed that the deal was not in the country's best interest anymore and therefore chose not to extend it. This led to supported prices, as the market was unsure of how this decision would affect the flow and availability of grain and oilseed.
This type of trading can be referred to as sentimental or emotional trading. When you look at the bigger picture, the story looks a little different. Expectations of a larger crop this season can lead to higher closing stock at the end of the coming season. Therefore, expectations are that the grain prices can come under pressure in the long run when taking fundamental factors into account.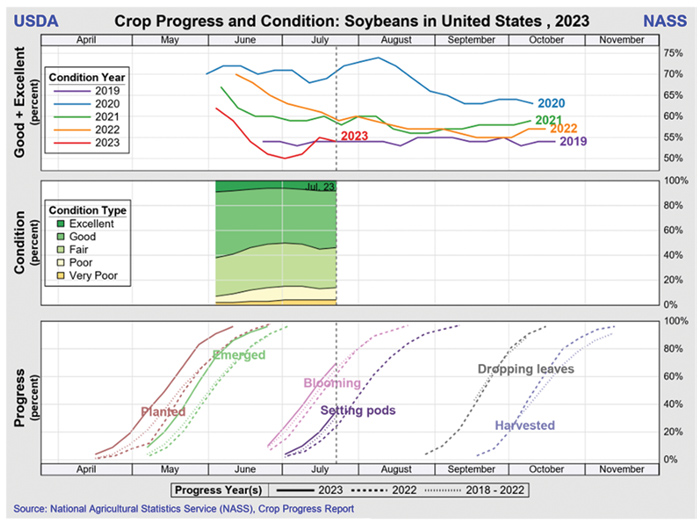 Publication: October 2023
Section: Pula/Imvula