Opportunity for sufficient soybean production in SA
April 2017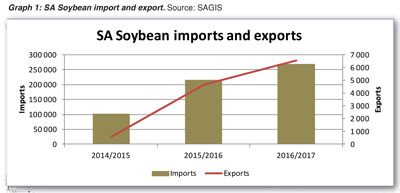 The world oilseed production has increased strongly since 2012, mostly due to growth in the United States, Brazil and Argentina. Part of the reason for this production uptick is the increasing global feed requirements from some of the largest consumers such as China. Over the same period, South Africa has also seen an increase in production, even though it's still below the annual requirements.
However, growth in domestic soybean production was disturbed by the 2015/2016 drought season. Between the 2014/2015 and 2015/2016 marketing season, soybean production declined by 30% from 1 070 000 to 741 550 tons. However, looking ahead, there are signs of possible recovery this season. Applying the Crop Estimates Committee's (CEC) preliminary production estimates for the 2017/2018 marketing year, it's estimated that South Africa's soybean production could reach 946 000 tons. Alongside this is an expected rise in feed consumption, which is likely to increase by 28% from the current season.
The soybean for human consumption is also expected to increase from 23 800 tons of the previous season to 25 000 tons. Worth noting is that an increase in domestic demand for soybeans leaves room for an increase in imports of oil and oilcake, which means that domestic production, is not yet sufficient to meet the growing local demand.
Table 1 illustrates the Grain SA Supply and Demand scenarios. Worth noting is that despite the possibility of an above average crop in the upcoming season, South Africa could remain a net importer of soybean – with an estimated 70 000 tons import requirement. This points out to the opportunity that lies in the production of soybeans in a world where feed and human consumption is rising.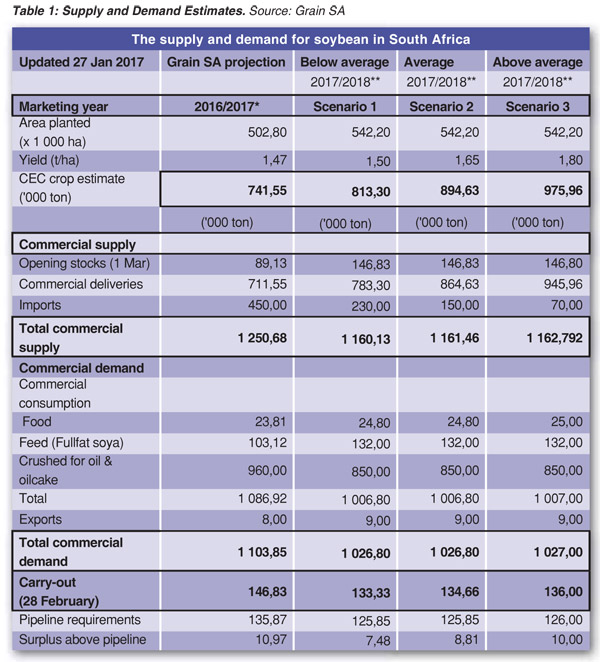 From Graph 1 of the South African soybean import and export activity over the past three years, it is evident that although there has been a rise in imports, this was also followed by a rise in exports. It would therefore be advisable for farmers to consider soybeans during crop planning in order to meet the rising local demand and subsequently reduce the import requirements over time, while ensuring that the country has enough produce for the export market. With that said, profitability will be the main guide in decision making during the planting seasons.
Article submitted by Michelle Mokone, Agricultural Economist: Grain SA. For more information, send an email to Michelle@grainsa.co.za.
Publication: April 2017
Section: Pula/Imvula