Oopgroefmynbou in Mpumalanga: Waarheen met rehabilitasie?
November 2014

NAAS GOUWS, ontwikkelingskoördineerder, Graan SA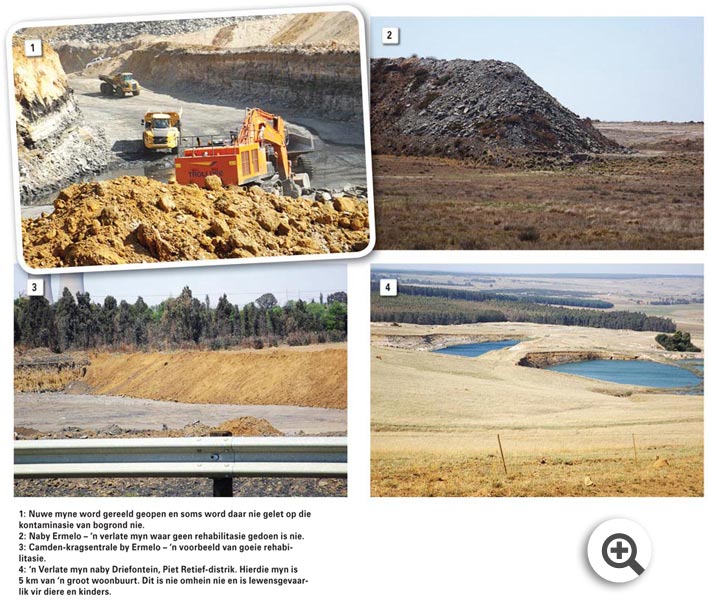 Uit die aard van my betrokkenheid by ontwikkelende landbou in Mpumalanga, deurreis ek die area. Ek is werksaam in 'n gebied 50 km wes van Pongola, Donkerhoek (Hysehope dam), Sheepmoor (Ermelo), Daggakraal, Oos van Amersfoort, Carolina, Nigel, Witbank en Bronkhorstspruit.
Omdat ek in die Ogies/Witbank-area van die Hoëveld grootgeword het, lê die gebied my na aan die hart en is die oopgroefmynbou wat nou daar bedryf word, baie hartseer. Ek kan daarom nie help om te let wat op plase gebeur waar ek destyds as kind gespeel het nie.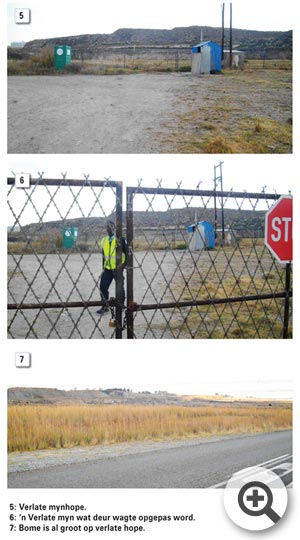 Die volgende is baie opvallend:
Sommige myne voldoen aan alle vereistes soos voorgeskryf deur wetgewing. Bogrond en ondergrond word netjies apart opgeberg en rehabilitasie begin sodra voldoende gemynde areas beskikbaar is. Voorbeelde hiervan is die myne by die Camden-kragsentrale, oos van Ermelo.
Klip en ander gesteentes word netjies onderin die gat gegooi en bedek met bogrond. Daar kan selfs aanvaar word dat hierdie grond in 'n beter toestand is as voordat met mynbou begin is omdat alle beperkende lae opgehef is en versuiptoestande nie weer hier sal voorkom nie. Daar is selfs die moontlikheid dat mielies binnekort weer hier sal groei.
Sommige myne voldoen aan hierdie aanvanklike vereistes, maar rehabilitasie word uitgestel of glad nie gedoen nie. Die foto's in die artikel toon oopgroefmyne oos van Delmas, op pad na Leandra. Met my aankoms daar is ek deur 'n wag gekonfronteer wat wou weet wat ek daar soek en selfs my voertuig se registrasienommer afgeskryf het. Dit is duidelik aan die oorgegroeide hope, dat die myn baie lank gelede gesluit is en daar nie beplan word om dit te rehabiliteer nie.
Swak rehabilitasiewerk is ook algemeen. Wes van Middelburg, op die ou Witbankpad, is 'n oopgroef wat oënskynlik goed gerehabiliteer word, maar dit lyk na 'n toesmeerdery aangesien nie alle bogrond teruggeplaas word nie. Die gerehabiliteerde area lyk dus baie mooi, maar die bogrond is baie dun.
Noord van Ogies is 'n geweldige groot oopgroefmyn. Daar word al baie lank hier gemyn, maar geen teken van rehabilitasie kan gesien word nie.
Nuwe myne word byna weekliks geopen, soos by Donkerhoek en naby Carolina. Alhoewel die grootste gedeelte van die myne op natuurlike veld voorkom en nie ploegbare grond nie, kan die verlies daarvan nie goedgepraat word nie. Produsente in hierdie omgewings verwelkom die myne met ope arms, omdat onbegaanbare paaie nou opgeknap is, maar of hulle op die lang duur tevrede gaan wees met hulle omgewing, bly 'n ope vraag.
Daar is onlangs berig oor die skuldigbevinding van 'n uitvoerende hoof van 'n myngroep nadat private klagtes ingedien is. Die publiek (in besonder produsente) sal dus die rol van polisieman in sulke gevalle moet speel en waar dit landbou nadelig beïnvloed, sal Agri SA dit moet aanspreek. Rehabilitasiewerk wat swak uitgevoer is, kan beswaarlik weer reggemaak word, omdat bogrond dan met klippe en ander materiaal, soos suur steenkool, gemeng is. Sulke swak werk kan deur tydige optrede verhoed word, maar nie deur té laat optrede reggestel word nie.
Publication: November 2014
Section: Focus on