LIENTJIE VISSER, KLEINGRAANINSTITUUT, 'N INSTITUUT VAN DIE LNR-VELDGEWASDIVISIE, BETHLEHEM
Grondontledings is die sleutel tot 'n suksesvolle bemestingsprogram. Monsters wat korrek geneem is, kan verseker dat kunsmis effektief toegedien word om die verwagte opbrengs te behaal.
Grondmonsters moet minstens elke drie jaar geneem word. Korrekte monsterneming en goeie rekordhouding stel 'n produsent in staat om tendense soos grondsuurheid wat oor jare ontwikkel, te volg. Indien die regstelling van grondsuurheid met behulp van bekalking beplan word, moet grondmonsters ten minstens vier maande voor 'n nuwe aanplanting geneem word.

Die volgende monsternemingsriglyne uit die LNR-Kleingraaninstituut se Produksiehandleiding sal verseker dat resultate wat oor jare geneem is, met mekaar vergelyk kan word:
Deel lande wat ontleed moet word op in homogene eenhede van verkieslik nie groter as 50 ha nie. Homogeniteit word bepaal volgens vorige gewasse se prestasie, grondtekstuur en topografie.
Monster probleemkolle apart.
Verwyder los klippe, gras en stokke uit die monster.
Ten einde 'n verteenwoordigende monster uit 'n homogene eenheid te verseker, moet 20 tot 40 monsters op dieselfde diepte, eweredig oor die volle oppervlakte van die land geneem word. Vermy kolle wat opvallend
swakker as die res is, wenakkers en staanplekke van vee.
Die aanbevole diepte vir 'n bogrondmonster is 0 mm - 200 mm en ondergrondmonsters word in die
200 mm - 600 mm laag van die profiel geneem.
Indien lande geploeg is, moet monsters lukraak oor die hele oppervlak geneem word. In gevalle waar rye van die vorige oes nog sigbaar is, kan die submonsters lukraak tussen en in die rye geneem word.
Gebruik 'n skoon sak vir die vermenging van die submonsters. Verwyder die stokkies en maak die groot klonte stukkend. Vermeng die monster daarna deeglik en sprei die grond in 'n dun lagie oor die sak. Neem dan klein skeppies eweredig oor die volle diepte en oppervlakte daarvan en gooi dit in 'n monsterboksie, of plastieksakkie. Die finale monster moet ongeveer 500 g weeg.
Resultate is makliker vergelykbaar indien monsters elke keer ongeveer dieselfde tyd van die jaar, of tydens dieselfde fase van 'n verbouingsprogram, geneem word.
Hierdie laboratoriumverslae is verbruikersvriendelik en elke verslag sluit norme in wat met die interpretasie van resultate kan help. Meeste kliënte verkies die pakketontleding, wat vir kunsmisaanbevelings gebruik kan word. Die pakketontleding bied resultate vir pH (KCl), fosfaat (Bray1), katione (ammonium asetaat) en persentasie suurversadiging. Kliënte doen soms navraag oor die katioonverhoudings (blou gemerk op die verslag) wat saam met die mg/kg-waardes van katione gerapporteer word.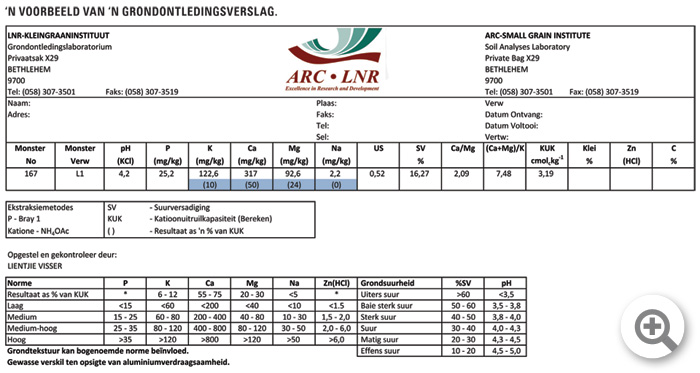 Hierdie verhouding word met die ekwivalente waardes van die katione bereken en nie met die ontledingsresultaat wat in mg/kg op die verslag gerapporteer word nie. Die resultate van katione word as volg omgeskakel van mg/kg na hul ekwivalente waardes:
K: mg/kg/391 =cmolc/kg
Ca: mg/kg/200 =cmolc/kg
Mg: mg/kg/122 =cmolc/kg
Na: mg/kg/230 =cmolc/kg
Volgens die Bemestingshandleiding van Suid-Afrika se Misstofvereniging wissel die verhoudings tussen Ca:Mg:K:Na rondom 65:25:8:2. Verhoudingstussen spesifieke katione kan as volg wissel:
Ca/Mg 1,5 tot 4,5
Mg/K 3 tot 4
(Ca+Mg)/K 10 tot 20
Hierdie verhoudings is slegs algemene riglyne. Dit is egter raadsaam om dit te monitor en reg te stel indien nodig. Die LNR-Kleingraaninstituut se Grondontledingslaboratorium bestaan reeds 21 jaar en bied aan produsente akkurate en betroubare ontledings binne 'n billike omkeertyd. 'n Interne kontrolestelsel en deelname aan die kontroleskema van die Agri-Laboratorium Assosiasie van Suidelike Afrika (AgriLASA) verseker deurlopende akkuraatheid. Besoek gerus die laboratorium vir vriendelike en persoonlike diens. Gratis monsterboksies en advies vir koringprodusente is op aanvraag beskikbaar. Kontak Lientjie Visser by 058 307 3501 of visserl@arc.agric.za vir enige navrae.