ONSEKERHEID nie die laaste woord nie
March 2018

DR BENNIE MOSTERT, Jerigo Mure
Ons leef in 'n onseker wêreld en tyd. Maar as ons mooi daaroor dink, was dit eintlik nog nooit anders nie. Dit is net dat die dinge waaroor ons onseker is, nie altyd dieselfde is nie. Op die oomblik is dit die politieke uitsprake, droogte en verlede jaar se "na-droogte". Op 'n sekere manier is dit bykans dieselfde as die onsekerheid of dit gaan reën of nie.
Produsente is gemaak om te glo. In Jak. 5:7 sê Jakobus, die broer van Jesus: "Die boer is iemand wat geduldig is – hy wag vir die reën." Ek kom van 'n Kalahari-plaas af. Van die 34 jaar wat my pa daar geboer het, was 18 droogtejare, maar ons het nooit "uitgeboer" nie. Hy het elke dag wes gekyk – dit was waarvandaan die Kalahari se reën kom. Hy was geduldig – soos 'n produsent. Hy het gewag – soos 'n produsent. Soos net 'n produsent kan.
Kan produsente moedeloos word? Ja. Kan produsente angs in hul harte hê? Ja. Maar produsente kan hoop ook. Die produsent se omstandighede bepaal nie wie hy en/of sy geloof is nie.
Jy kan sê: "Praat is goedkoop. Julle ouens in die stad weet nie van boer en sukkel nie." Dit is waar en ook nie heeltemal waar nie.
Die stad het sy eie uitdagings – dit is net ander soort uitdagings. Jy kan sê: "Dit help nie om vir my te preek nie. Ek het nie 'n preek nodig nie. Ons het reën nodig." En veiligheid en sekerheid dat ons ons grond kan behou. Dit is waar. Maar daarom is jy 'n produsent – dit is net 'n produsent wat kan aangaan wanneer dit nie reën nie en wanneer 'n mens nie weet wat die regering gaan doen nie.
Maar elke produsent het 'n anker nodig. As jou ankerpaal nie goed en diep geanker is nie, kan jy nie 'n stywe draad span nie. Dan lyk alles lamlendig. Daar is 'n anker beskikbaar: God. Hy is 'n diep en goeie anker. Al verstaan jy nie wat Hy doen nie, weet Hý wat hy doen. Maak jouself aan hierdie ankerpaal vas.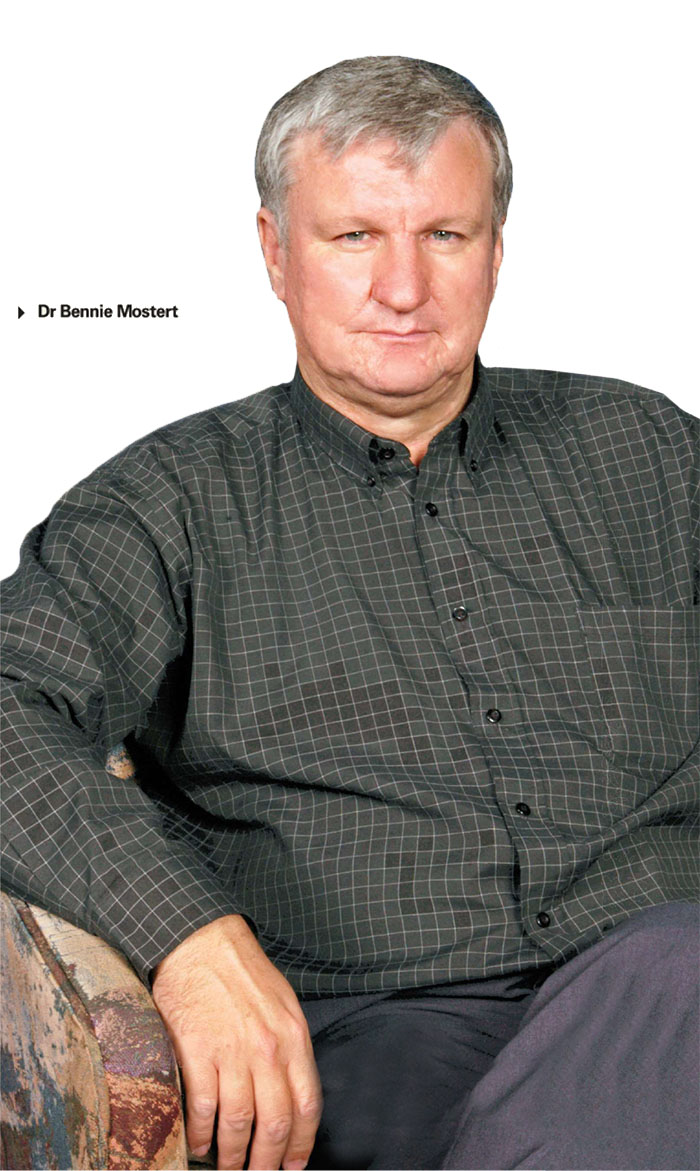 Sommige mense is hul eie ankerpale. Dit is nie so 'n goeie plan nie. Jy word siek of daar is 'n motorongeluk. Daar is aanvalle op die plaas/plase. Jy wil jou geweer gaan haal: Kom ons "skiet" die ding reg. Ons wil ons situasie met "geweld" regmaak. Dit gaan nie en kan nie werk nie. Geweld kweek geweld. Mense se harte moet verander. Joune, die regering en die mense in ons land s'n.
Daarom bid 'n produsent. Daar kom 'n plek waar die produsent se "arms te kort is" om by die uitdaging te kom – om iets aan die situasie te doen. Daar is twee dinge wat jy moet doen: Hou aan om die regte goed te doen en hou aan die Here vas.
En bid. Maar jy moet werk ook. Doen wat gedoen kan word. Bly soek na 'n plan. Soms is daar nie 'n plan nie. En dikwels, wanneer ons weer en weer soek, kom die plan.
Ons het in die agter-Kalahari by Gochas (Namibië) geboer. Die boorgat was 8 km van die huis af – dwarsduin. Wanneer jy die Lister start, moet hy loop en moet jy raai wanneer die dam vol is. Dit beteken 16 km om die Lister te gaan start en nog 16 km om hom te gaan afsit. En dan kom jy daar en die dam is nog nie vol nie. Dit het my pa vir jare in die nag laat lê en dink en dink. En een oggend het hy gegaan, 'n baie eenvoudige contraption op die dak van die pompkamer opgesit – en dit het 100% gewerk. Twee dinge: Hy het 'n probleem gehad en het bly soek na 'n oplossing.
Ek boer ook: Met siele. Jy boer met mielies of skape of beeste. Dit is dieselfde ding. Myne is net nog moeiliker – ek boer met siele – met joune ook!
Kyk op: "Die reën kom." Dit is waarvoor produsente gemaak is: Om te kan wag vir reën. Maar reën kan baie betekenisse hê.
Publication: March 2018
Section: Relevant