ONKRUIDSAAD – 'n suksesstorie
March 2017

ELBÉ HUGO, LNR-Instituut vir Graangewasse, Potchefstroom
Voortplanting is een van die belangrikste funksies van enige biologiese organisme. Onkruide is een van die suksesvolste plantspesies in terme van saadvermeerdering en -verspreiding.
Alhoewel die meeste onkruidspesies slegs deur saad voortplant, is daar ook ander voortplantingstrukture, insluitende risome (wortelstokke), stolons (ondergrondse stingels), knolle en stingel- en wortelsteggies wat die voortbestaan en verspreiding van onkruide waarborg.
'n Plant moet verskeie eienskappe ten toon stel voordat dit as 'n "onkruid" geklassifiseer kan word. Een van die eienskappe is die vermoë om oorvloedig saad te produseer – selfs al is die plantjies (onkruide) nog nie volwasse nie.
Nog 'n belangrike eienskap van 'n onkruid is dat die meeste onkruidsaad vir lang periodes lewensvatbaar kan bly. 'n Goeie voorbeeld van só 'n onkruid, is olieboom, waarvan 91% van die saad nog kiemkragtig is nadat dit vir 38 jaar in die grond oorleef het.
Die suksesvolle voortplanting van onkruidspesies kan geïllustreer word deur uintjies (geel uintjies [Cyperus esculentus] en rooi uintjies [Cyperus rotundus]) as 'n voorbeeld te gebruik. Onder gunstige omstandighede waar ander plante nie ook kompeteer nie, kan rooi uintjies binne vier tot sewe dae ontkiem.
Knolvorming begin vier tot ses weke nadat die saailinge opgekom het en kan teen 'n tempo van tot 200 knolle per vierkante meter per week vorm. Teen 20 weke na opkoms, kan daar meer as 3 000 knolle per vierkante meter geproduseer word.
Fisiologies-volwasse uintjies produseer ook saad bogronds. Een geel uintjie kan 1 900 saailinge en 6 900 knolletjies produseer. As die uintjies onder besproeiing handuit ruk, kan die getalle verdubbel.
Die Bengaalse wandelende Jood is nog 'n voorbeeld waar saadgetalle onder en bo die grond 'n merkbare bydrae tot suksesvolle voortplanting lewer. Ondergrondse blomme op die risome begin ses weke na opkoms te vorm en produseer tot 800 sade per vierkante meter. Bogrondse blomme kan soveel soos 12 000 sade per vierkante meter produseer.
Saadproduksie van eenjarige breëblaaronkruide soos porselein (Portulaca oleracea) en wit hondebossie (Chenopodium album) is nog meer indrukwekkend. Waar hierdie onkruide ongehinderd kan groei (dus sonder kompetisie), kan een porseleinplant oorsprong gee aan 250 000 sade en kan 'n withondebossieplant tot soveel soos 150 000 sade in een seisoen produseer.
Bekende eenjarige grasonkruide soos jongosgras (Eleusine indica) en kruisvingergras (Digitaria sanguinalis) produseer ook tussen 120 000 en 150 000 sade per plant.
Onkruidspesies kan ook suksesvol kiem en groei in koue, droë toestande sonder om dood te ryp of in oorlêlande. Die meeste gewaslande in die mielieproduserende gebiede toon hoë infestasievlakke van witblombloudissels (Argemone ochroleuca), radiatorbossie (Senecio consanguineous) en vaalskraalhanse (Conyza bonariensis). Witblombloudissels en sekere Senecio-spesies produseer tussen 20 000 en 25 000 sade per plant, terwyl een volwasse vaalskraalhansplant tot 226 000 sade per seisoen kan produseer.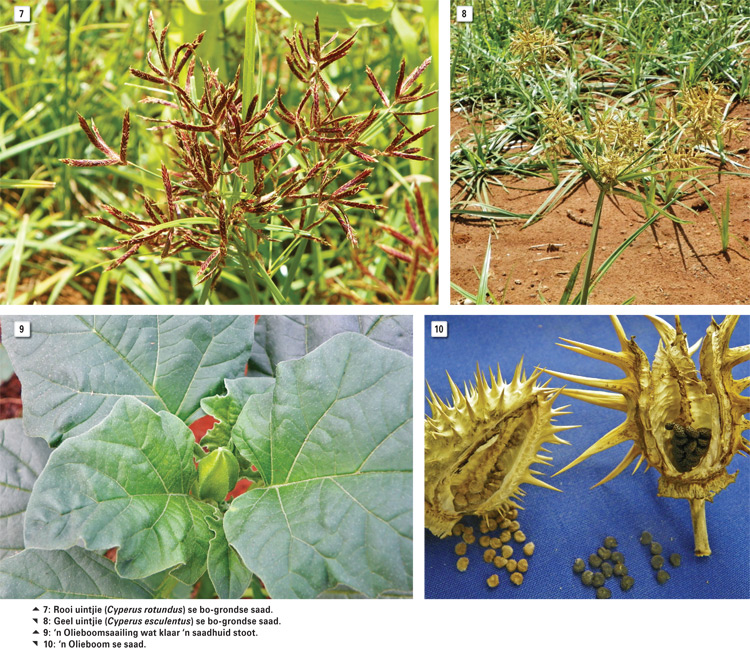 Waar gewasse verbou word, word die meerderheid onkruidsaad in die grond teruggesit en slegs 'n klein persentasie daarvan word deur wind, water, implemente, diere en mense versprei. Daar word dus van die grond as 'n "saadbank" gepraat waarin die saad elke seisoen gedeponeer word.
Die diversiteit van onkruidspesies en aantal sade in die saadbank sal grootliks varieer tussen die verskillende grondtipes, maar die bewerkings- en gewasverbouingsgeskiedenis van elke land bepaal wat die samestelling en infestasievlakke van onkruide sal wees.
Die volhoubaarheid van saad in die saadbank kan egter ook beïnvloed word deur fluktuerende vog en grondtemperature, omdat die meeste onkruidsade in die boonste 5 cm tot 10 cm grond voorkom. Saad van probleemonkruide soos wandelende Jood en uintjies wat dieper voorkom, kan net met 'n diep ploegbewerking vernietig word, omdat vlak bewerkings net die verspreiding van steggies en knolletjies sal aanhelp.
Dit is ook vanselfsprekend dat vrugbare grond hoër onkruidsaadgetalle in die saadbank sal hê.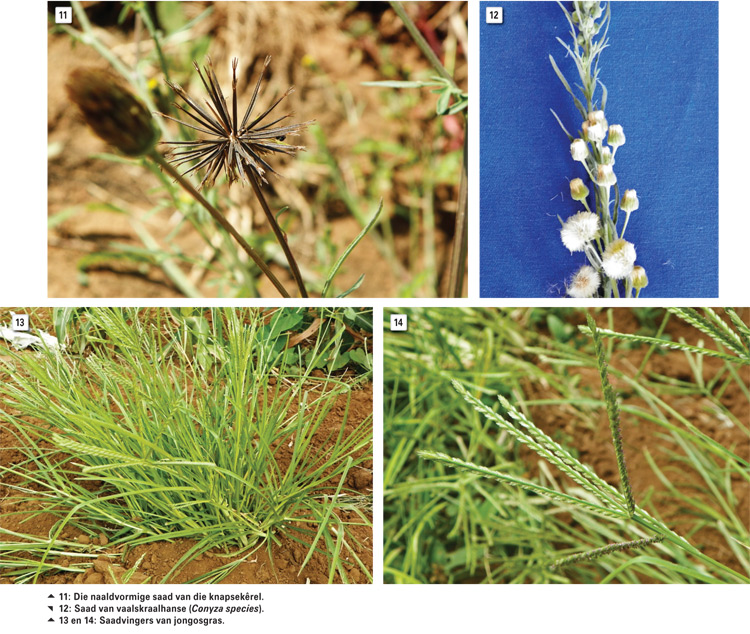 Kraalmis of hoendermis kan ook 'n belangrike bron van onkruidsaad wees, aangesien die saad van die meeste onkruidspesies steeds kiemkragtig is nadat dit deur die spysverteringstelsels van diere gegaan het. Alhoewel bogemelde saadgetalle meestal aangeteken is waar on kruide nie in kompetisie met 'n gewas was nie, beklemtoon dit die groot impak wat saadproduksie op die verspreiding en infestasie van sekere onkruidspesies kan hê.
Die persentasie kiemkragtigheid en effek van dormansie van onkruidsaad sal ook die getalle beïnvloed. Die meeste saad van eenjarige breëblaaronkruide se kiemkrag is >50%, terwyl grasonkruide se kiemkragtigheid wissel van 30% tot 80% in die eerste jaar nadat dit gestort is.
Kieming van onkruidsaad is een van die grootste bedreigings vir goeie opbrengsverliese van gewasse en daarom is dit essensieel om onkruide tydig te beheer voordat dit kan blom en saad stort.
Verwysings
BioNet-EAFRINET. 2011. Keys and factsheets – Argemone ochroleuca (Mexican poppy).
Fernando, N, Humphries, T, Florentine, SK and Chauhan, BS. 2016. Factors affecting seed germination of feather finger grass (Chloris virgata). Weed Science 64, 605 - 612.
Kempen, HM en Graf, J. 1981. Weed seed production. Proceedings of the Western Society of Weed Science, Volume 34, 78 - 81.
Mitich LW. 1988. Common lambs quarters (Chenopodium album). Weed Science 2, 550 - 552.
Mitich LW. 1988. The intriguing world of weeds: Crabgrass. Weed Technology 2, 114 - 115.
Mitich LW. 1997. Common purslane (Portulaca oleracea). Weed Science 11, 394 - 397.
Ransom, CV, Rice, CA en Shock, CC. 2009. Yellow nutsedge (Cyperus esculentus) growth and reproduction in response to nitrogen and irrigation. Weed Science 57, 21 - 25.
Rao VS. 2000. Principles of weed science. 2nd Edition. Science Publishers, Inc: Enfield (NH), USA. p. 555.
Walker, SR en Evenson, JP. 1985. Biology of Commelina benghalensis L. in southeastern Queensland. 1. Growth, development and seed production. Weed Science 25, 239 - 244.
Publication: March 2017
Section: Focus on