Om afskeid te neem
July 2017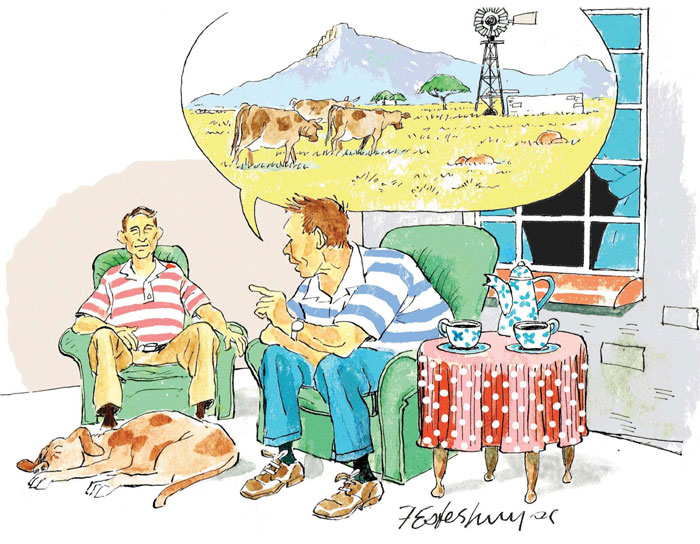 Beste Grootneef
Onlangs breek ek 'n broodjie met 'n buurman wat 'n volle kwarteeu aan sy boerdery gewy het en nou besluit het om klaar te maak en aan te beweeg.
So met die uitruil van stories oor wie, wat en waar, raak dit vir 'n oomblik stil oor 'n glasie wyn – soos dit maar gaan as twee goeie vriende op hul lekkerste kuier. Ek vra hom toe wat hy van sy boerdery sal onthou. Sy antwoord was: "Dat dit so gou verbygegaan het."
Ou Neef, dit was 'n antwoord oor tyd wat die kaf van die koring geskei het. Want in die drukgang van oorlewing op 'n plaas, kan die waardering dat elke dag eintlik 'n toegif van genadegawes is, oor tyd vervaag. Buurman se besluit om 'n plaashek finaal te sluit, laat 'n mens die wêreld effe anders sien, met 'n nuwe bewustheid van dit wat kosbaar is.
Ou Neef, trek daardie vars oggendlug díép in jou borskas in. Kyk en lúíster na die voëls se gesang wanneer die dag breek. Verwonder jou aan die Skerpioen wat hom in die wintermaande in die hemelruim tuismaak. Lúíster na die windpomp se kraak in die aandwind. Hóór die gerinkel van breekgoed soos jou ander helfte aandete begin regsit. Rúík daardie winterbredie met beesvleis en naeltjies wanneer jy die kombuis instap. 'n Mens doen dinge anders wanneer die besef insink dat niks vir altyd is nie.
En los die TV vir een aand af. Want Trump se tweets gáán die wêreld verwar. Iemand gáán 'n pad met brandende bande versper. Die mielieprys gáán halsstarrig laag bly. Die politici sál in die Praathuis redekawel of die staat gekaap is of nie.
Maar waardeer die plaas se vrede vanaand. Môre sal weer sorg vir sy eie kwaad.
Ou Neef, geniet die skadu van die boom waaronder jy sit, want jy weet nie of 'n storm dit vannag omwaai nie. Geniet 'n vriend se handdruk, want jy weet nie of jy hom weer volgende jaar by NAMPO sien nie. Want as die sand deur die uurglas se nekkie geval het, is die oomblik verby.
Afskeid begin eintlik reeds met geboorte. Want dan begin jou tydsrekening uitloop. As jy sterk is dalk 'n 70, as jy baie sterk is, dalk 'n 80 kalenderjare op die kerfstok. Moet nooit ongeërgd met geleende tyd werk nie. Jy kan dit nie soos lugtyd optop nie.
Soms vang 'n herinnering jou onverhoeds. Losgewoel in die gemoed met die "Oukraalliedjie" van Groep 2, die geur van vars beskuit of 'n dak wat in die laat nag kraak, net soos destyds op Liefdefontein. Jy, nou 'n duisend myle daarvan weg, onthou skielik hoe dit was, jonk en onervare oor die lewe wat voorlê.
Afskeid en herinnering loop soos vinkel en koljander, die een lyk soos die ander. Vir bakens van herinnering dra 'n mens gedurig goed aan om 'n afskeid te herdenk. Soos 'n klippie uit Praag, 'n stompie van Waenhuiskrans of 'n spekboompie van Willowmore. Net om te onthou dat jy dáár was en 'n oomblik se vreugde op 'n vreemde plek ervaar het.
Daarom dan seker dat Buurman met die laaste sluit van die plaas se hek, 'n kênfruit-bottel vol plaasgrond saamgeneem het, om in sy nuwe huisie op die kaggelrak te staan.
Groete op die Oosgrens!
Kleinneef
Publication: July 2017
Section: Features