Oliekolonies kry hot agter
March 2015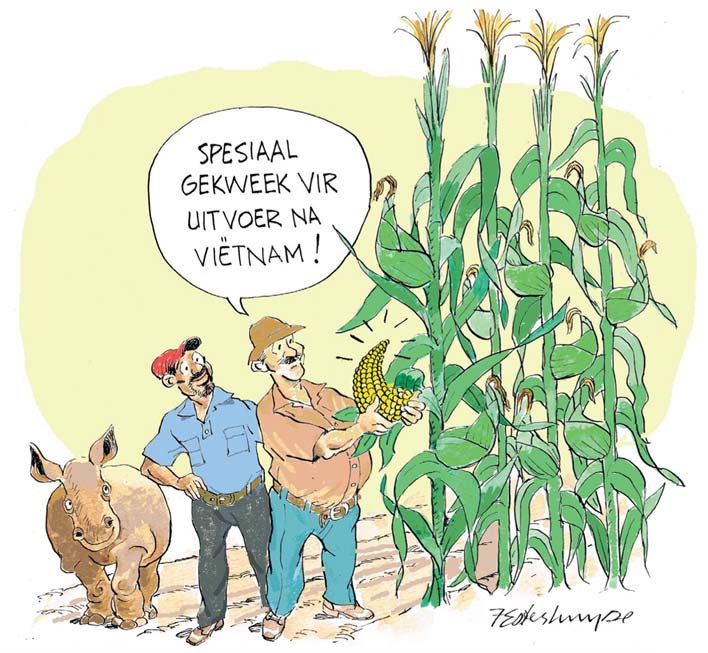 Beste Grootneef
Daar is min goed so mooi as wanneer die Oliekolonies besluit om te pomp tot die beker oorloop. Olie wat lankal te duur vir die aardbol was, verkoop nou teen halfprys.
Neef Janovsky laat weet egter, dat die mak oliepryse die Yanks se etanolproduksie boelie. Bio-etanol uit mielies kompeteer moeilik met die lae oliepryse, met die gevolg dat meer en meer mielies 'n ander heenkome op wêreldmarkte kan soek. En soos al tyd, slaan die prysweerlig sommer voortydig tot hier in die Vrystaat. Dalk moet iemand weer 'n laken verf met die vragie: "De la Rey, De la Rey, waar gaan ons etanol kry?". Só 'n laken het mos 'n paar jaar gelede kortstondig in Bothaville rondgehang.
Ou Neef, laer oliepryse druk etanolaanlegte wêreldwyd in 'n ekonomiese hoek. Wat nog te praat as die spul hier ter plaatse nog in produksie moet kom? Én Minister Tina sit en weifel of regulasies op insentiewe afgeteken moet word...
Synde dat ons nou al wat 'n kleur wildsbok is kry, moet ons mieliemanne dalk 'n blaadjie uit die wildsboerdery-woordeboek neem. 'n Mens kry mos nou goue gemsbokke, swart rooibokke en geel blesbokke. Selfs 'n paar blou bulle...
Dink net wat dit vir die mieliebedryf kan beteken indien ons kan begin om eksotiese mielies vir 'n eksklusiewe mark te plant. Soos 'n mielie wat lyk soos 'n renosterhoring vir uitvoere na Viëtnam. Wat van 'n goue mielie vir die klomp in Sandton? Vir die Kapenaars, 'n vierkantige mielie wat proe soos 'n brood, maar jy eet hom soos 'n mielie.
Ou Neef, die moontlikhede vir 'n eksotiese mieliemark is eindeloos. Want, so lyk dit, om 'n etanolaanleg in die Vrystaat aan die gang te kry, is net so moeilik soos vir 'n kameel om deur die oog van 'n naald te stap.
Die vol ruoliepot moet egter mos nou help om volgende seisoen se insette te temper. Buurman sê hy sien met verwagting uit na die kuier van dieselfde span wat verlede jaar vertel het insette styg so drasties, as gevolg van hoë oliepryse. Vanjaar moet hul mos die blye nuus kom deel dat inset pryse teruggesak het, as gevolg van die lae oliepryse!
Ou Neef, die een ding wat ons hieruit leer, is dat niks in die wêreld seker is nie, behalwe dat dinge verander. Soos Buurman sê, die olieprys kan in die volgende twaalf maande op- of afgaan, maar nie noodwendig in daardie orde nie.
So van afgaan gepraat. Eishkom is nogal goed daarmee. Verlede naweek was ons by Stadsneef, toe die ligte net so "poef", afgaan. Vir 'n oomblik was dit stil, en tóé moet jy hoor. 'n Yamaha-koor wat skrik vir niks. Byna elke huishouding het 'n jennie wat inskop en gou was die buurt se ligte weer aan. Stadsneef en sy bure is heel paraat hoor! Niemand glo meer die blink segsman wat sê die kragmoeilikheid is tydelik nie.
Groete op die Oosgrens. Hou maar die kerse en vuurhoutjies gereed. Die krag-breke kom soos 'n dief in die nag.
Kleinneef
Lesers is welkom om 'n e-pos aan Kleinneef te stuur by kleinneef@graingrowers.co.za.
Publication: March 2015
Section: Features