Oilseed outlook for the new season
January 2020

For the 2020 production season for soybean and sunflower, this article will give a brief outlook of the planting intentions.
SOYBEAN OUTLOOK
According to the Crop Estimates Committee (CEC) report the intentions to plant for soybeans for 2020 shows an increase of 2,05% or 15 000 ha compared to the previous season – from 730 500 ha to 745 500 ha.
Over the past decade, soybean production has been on the rise and amongst summer crops; it has been a good alternative for maize as it compared well in terms of profitability; especially for drought prone areas in the North West and parts of the Free State. Although soybean area has been expanding substantially, yields remain low. In order to have good yields, the assumption is that there should be good rains and improved cultivars.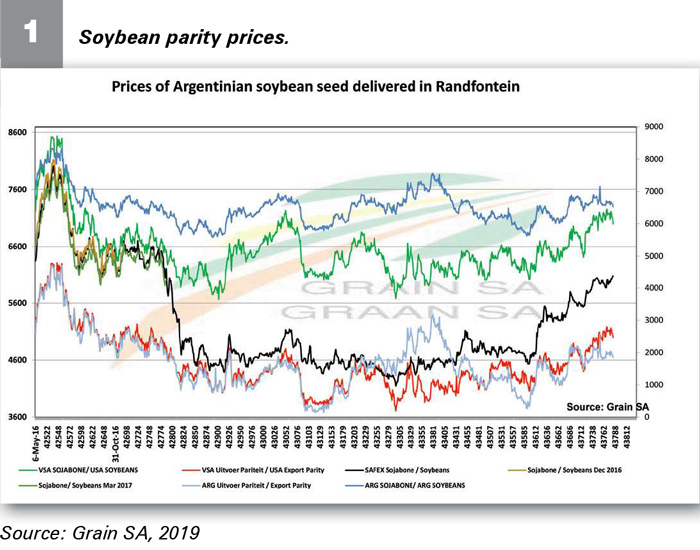 It is expected that the breeding and technology levy for soybeans will accelerate yield gains in the future. The choice to plant more soybeans in the coming season can also be attributed to the movement of the derived price from export parity levels towards import parity levels (Graph 1). However, weather will be a big determining factor. The optimum planting period starts from mid-November; some farmers have received a bit of rain, while others are optimistic that they will get enough to plant during the planting window. According to the South African Weather forecast, there are good prospects of rains for the last two months of 2019 until January 2020; things are definitely looking up in terms of fulfilling local demand.
SUNFLOWER OUTLOOK
In the case of sunflower seed, the expected area planted for 2020 is estimated at 538 500 ha, this is about 4,49% or 23 150 ha more than the 515 350 ha planted last season. Sunflower prices are trading closer to export parity levels compared to the same period last year (Graph 2). This will be one of the determining factors as to whether the farmers plants sunflower or not.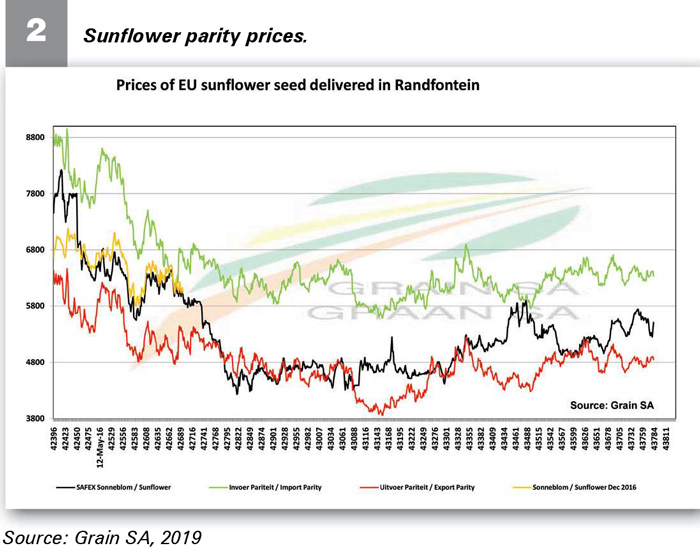 Publication: January 2020
Section: Pula/Imvula