Oil prices continue to soar
April 2021

Global 2020/2021 oilseed production is forecast to be lower than expected, especially for soybean and groundnut production. Soybean production expectations have been reduced for the United States (US), Argentina and Uruguay, offset by a similar gain in china's soybean crop.
GLOBAL OILSEED PERSPECTIVE
Groundnut production expectations were cut by 430 000 ton on reduced US production, while Russia's sunflower seed production is expected to increase.
Global oilseed exports are expected to be about at 193 million tons, after being raised by nearly 1 million tons on increased US soybean and Russia sunflower seed exports. Oilseed crush is also expected to be higher with small increases in soybean and sunflower seed crush. Global oilseed ending stocks are down, due to lower soybean stocks in the US and Argentina.
Soybean export prices for the US and Argentina strengthened for the seventh consecutive month in January, reaching the highest levels since July 2014. Brazilian soybean prices also followed suit since November 2020. Prices have been on the rise due to high demand, lower carryover stock from 2019/2020, and dry weather in South America.
Soymeal prices also continued to strengthen further throughout December 2020 reflecting fluctuations in soybean prices. Rising oil prices persisted in December due to sustained demand for oils despite lockdowns and lower soybean crush in South America. Argentine soy oil prices outpaced both the US and Brazil, largely due to prolonged strikes, leading to the largest US soy oil price discount against Argentina since June 2015.
LOCAL OILSEED PERSPECTIVE
Against the backdrop of rising global oilseed prices over the past few months, South African oilseeds have also found support, with prices at an all-time high since 2016. This is despite a favourable supply situation for both sunflower and soybeans. Between January 2020 and January 2021, sunflower prices have increased by 62% and soybean prices by 53%. According to the Crop Estimates Committee (CEC), the preliminary area estimate for sunflower seed for 2021 is 473 300 ha, which is 5,4% less than the 500 300 ha planted the previous season, this can help to support prices further. It is estimated that 806 000 ha have been planted to soybeans, which represents an increase of 14,33% compared to the 705 000 ha planted last season. This makes it the highest area planted to soybeans in South African history. Essentially, this could lead to a dip in prices, however it is expected that international prices will be supportive in the short to medium term, given the global supply situation.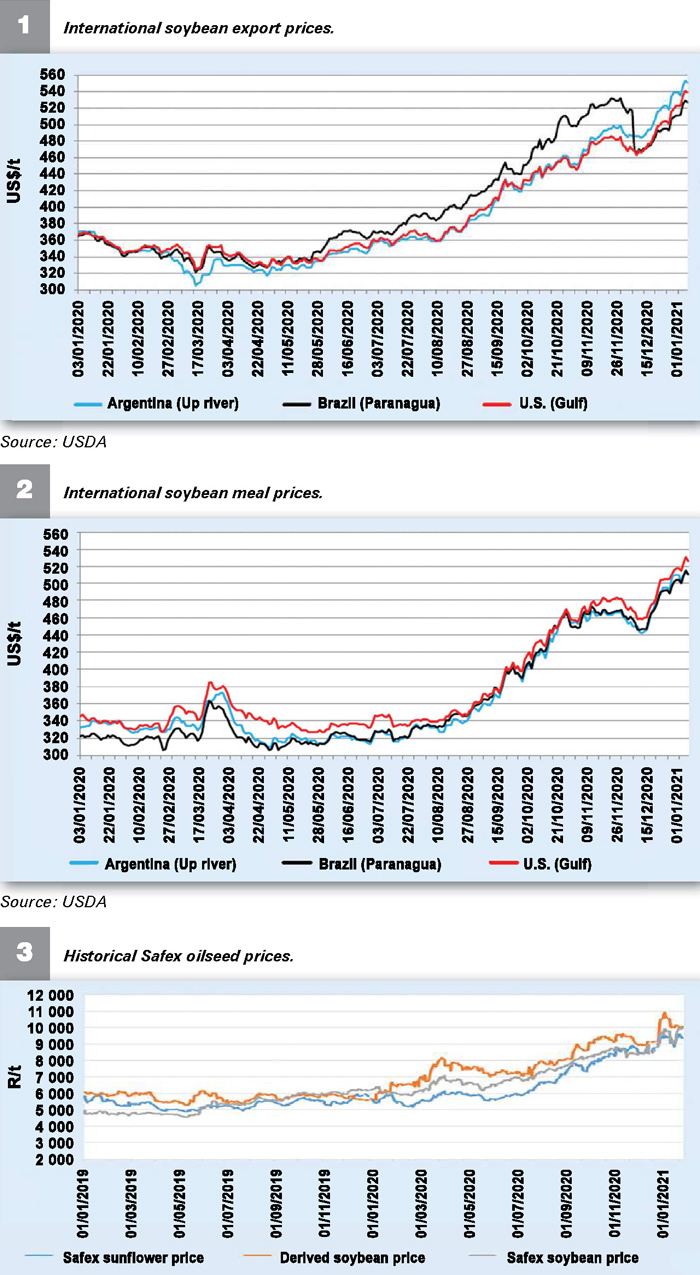 Publication: April 2021
Section: Pula/Imvula