SA GRAAN/GRAIN REDAKSIE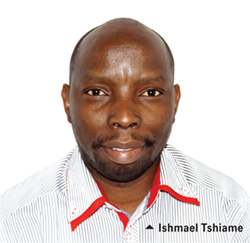 Mnr Jannie de Villiers, voorsitter van die Raad van Trustees van die Wintergraantrust, het bekend gemaak dat mnr Ishmael Tshiame vanaf
1 Junie 2014 aangestel is as administrateur van die Wintergraantrust.
Die huidige administrateur, mnr Awie Coetzee, wat aftree-ouderdom bereik het, bly tydelik aan as administratiewe beampte.
Tshiame het onlangs sy MBA-graad met die titel "Productivity and profitability measures of emerging farm enterprises in the Mpumalanga province" aan die Tshwane Universiteit van Tegnologie behaal. Hy is sedert 1 Augustus 2012 in diens van die Wintergraantrust en het sedert sy aanstelling wye kennis van die wintergraanbedryf en die aktiwiteite van die trust opgedoen.
Hy het 'n intense belangstelling in die landboubedryf van Suid-Afrika en het Suid-Afrika in 2013 by die International Grains Council verteenwoordig.