Nuwe koringlyne 'n hupstoot teen peste en plae
October 2016

VICKI TOLMAY en SCOTT SYDENHAM, LNR-Kleingraaninstituut, Bethlehem
Suid-Afrikaanse koringprodusente word elke jaar met 'n groot verskeidenheid peste en plae gekonfronteer. Soos een moedelose produsent dit stel: "Daar is 'n ellende wat by elke omstandigheid pas." Hoewel daar 'n mate van waarheid in die stelling steek, is dit gelukkig nie waar die storie eindig nie.

Dit is wel só dat klimaatsverandering die omgewing minder voorspelbaar maak en daar is ook groter wisselvalligheid tussen produksieseisoene. Dit bring mee dat heelwat siektes en plae sporadies of onverwags voorkom.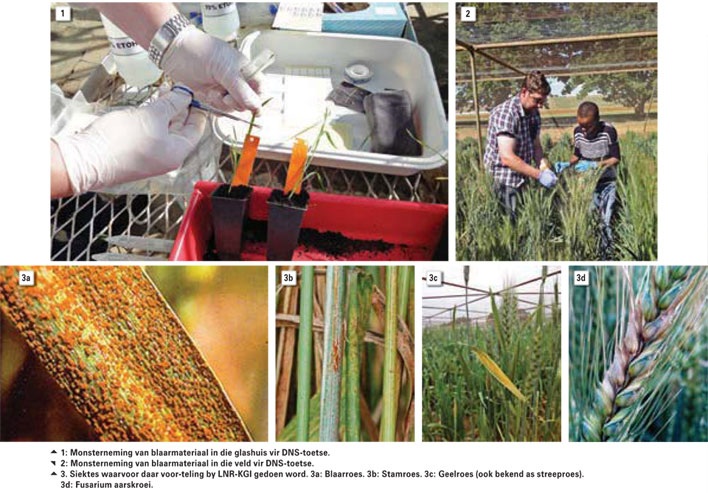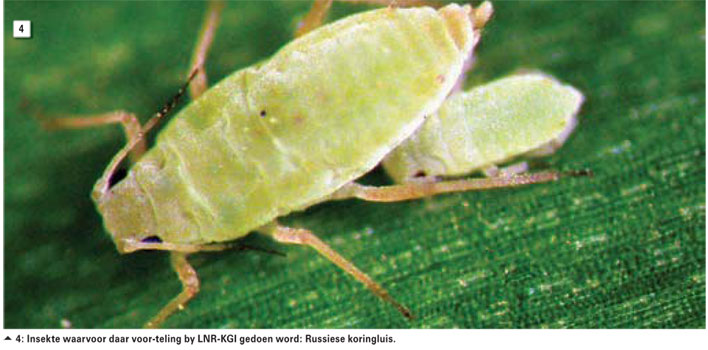 Daarom is dit van die uiterste belang dat produsente gereeld hul lande besoek en fyn dophou wat daar gebeur. Produsente staan gelukkig nie alleen wanneer dit by hierdie probleem kom nie.

Die voor-telingsafdeling by die LNR-Kleingraaninstituut (LNR-KGI) werk onverpoosd daaraan om te verseker dat Suid-Afrikaanse telers toegang het tot die beste genetika wat siekte- en plaagweerstand betref. 'n Opwindende nuwe navorsingsfokus wat tans baie aandag by die LNR-KGI geniet, is juis die voor-teling van koringlyne met weerstand teen verskeie koringsiektes en insekplae.

Oor die afgelope vyf jaar is miljoene rande deur die LNR spandeer om moderne molekulêre laboratoriums in te rig. Hier is dit moontlik vir navorsers om koring-DNS te ekstraheer en met merkers te toets vir die teenwoordigheid van spesifieke gene wat weerstand teen siektes beheer.

Daar word tans met merkertegnologie vir weerstand teen Fusarium aarskroei, stamroes, blaarroes en streeproes geteel.

Slegs 2 g blare word benodig om 'n DNS-toets te doen. Dit is een van die grootste voordele van die gebruik van molekulêre merkers vir voorteling. Navorsers kan byvoorbeeld met 'n klein stukkie blaar die DNS vir die teenwoordigheid van weerstand teen stam-, blaaren geelroes ontleed, terwyl die einste koringsaailing in die glashuis met Russiese koringluis besmet word om te bepaal of dit weerstand teen die luis kan bied.

Meer as een eienskap word dus in een generasie getoets en net die plante wat ál die eienskappe besit, word tot die volgende generasie bevorder.

Dit maak ook nie saak of die koringplant 'n saailing of 'n volwasse plant is nie. Koring kan in die veld geplant word en blaarmonsters kan geneem word van net dié wat die agronomiese eienskappe besit waarna die voor-telers soek. Hierdie hoë potensiaal-koringlyne word dan op 'n gereelde basis aan al die koringteelmaatskappye in Suid-Afrika beskikbaar gestel.

Wat is voor-teling?

Voor-teling is die proses waardeur nuttige eienskappe vanuit onaangepaste koringlyne na veredelde lyne oorgedra word. Die produk van voor-teling is nie geskik vir gebruik deur produsente nie, maar is nuttig vir koringtelers, omdat dit waardevolle eienskappe bevat wat telers in hul teelprogramme kan benut sonder om die nadelige eienskappe van die donorlyne in hulle programme oor te dra.

Wat is 'n voor-teler?


Die navorsers wat voor-teling doen, is gewoonlik spesialiste in die betrokke veld – hetsy molekulêre biologie, siekte- of insekweerstand. Hulle werk nóú saam met telers om eienskappe wat in goeie lyne ontbreek, deur middel van voor-teling in daardie lyne in te sluit.

Die LNR-KGI op Bethlehem is alombekend vir die waardevolle bydrae wat dit tot koringnavorsing in Suid-Afrika lewer. Navrae kan aan Vicki Tolmay of Scott Sydenham gerig word by 058 307 3400.
Publication: October 2016
Section: On farm level