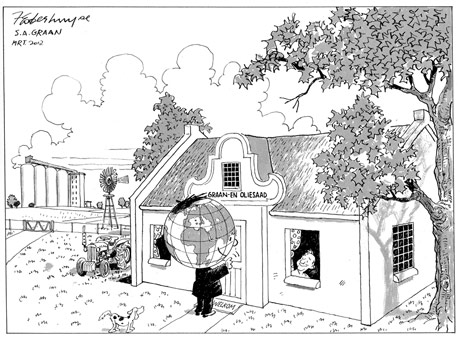 Saam met 1997, toe Suid-Afrika al sy landboumarkte gedereguleer het, gaan 2011 waarskynlik onthou word as die jaar waarin die dinamika in die graan-bedryf na 'n ander rat oorgeskakel het.
Graanbeskikbaarheid vir die steeds groeiende wêreldbevolking asook veranderinge in eetpatrone, 'n groeiende middelklasverbruikerspopulasie in opkomende ekonomieë en die ontwikkeling van biobrandstof, het 'n perma-nente verandering in ons markomgewing veroorsaak. Laastens het die impak van klimaatsverandering tradisionele graanuitvoerlande tot so 'n mate beïnvloed, dat Suid-Afrika groot voordeel daaruit kon trek.
Die hertoetrede van Suid-Afrika as graan- en oliesaaduitvoerland het 'n era kom inlui waar dit nie meer business as usual hier aan die tuisfront gaan wees nie. Die blootstelling van ons mielies aan groot invoerlande asook die ewige honger Sjina, laat plaaslike kopers snags wakker lê. Hulle beleid van "ons koop maar net drie maande vooruit" en hulle siening van "hier sal altyd genoeg wees", gaan beslis getoets word in die jare wat kom.
Was dit nie 'n soete klank toe ons Wes-Kaap produsente die veevoerkopers se stemme aan die anderkant van die telefoon hoor wat broodkoring soek vir hulle hoenders nie?! Hierdie nuwe dinamika kan selfs daartoe lei dat 'n voer-koring- en voergarsmark die ewige liggingsdifferensiaal kan sink.
Die mark se dinamika het egter ook 'n ander kant. Kopers en graanverwer-kers sal ook nuwe weë uittoets om die verskuiwing van mag te probeer balanseer. Sommiges beroep hulle op die politici om in die mark in te meng en ander trek sommer net hulle hare uit hulle koppe.
Dit is seker te vroeg om te sê, maar dié ultimate skuif sou vergelyk kon word met 'n verskuiwing van politieke mag ná 'n verkiesing. Hoe lank hierdie situ-asie gaan voortduur en wat alles nog in die benoude maande van Maart/April/Mei gaan uitglip, sal die tyd ons leer.
Die ander spasie om dop te hou, is of onderhandelings of konfrontasie die beste weg is om die sake rakende grondhervorming ten beste op te los. Die moontlikheid om saam met georganiseerde arbeid 'n meer konfronterende pad te volg, is beslis 'n "buite-die-boks" benadering wat oorweeg moet word.
Ek wil my nek uitsteek en die volgende waag:
Hoë opbrengste in mielies en soja is permanent met ons.
Biobrandstof bied nuwe kopers van graan/oliesade.
Permanente buitelandse kopers is 'n realiteit.
Krisisse in wêreldproduksie van graan en oliesade weens klimaatsverandering sal konstant met ons wees.
Daar is nuwe voermarkgeleenthede vir wintergrane.
Bemarking rondom formele silostrukture bereik betekenisvolle hoeveelhede.
Minimum- of geenbewerkingspraktyke gaan 'n verskil maak aan winsgewendheid.
Produsente doen privaat ingevoerde kultivarproewe.
Graanaankope in Suid-Afrika is ook nie meer business as usual nie.
Met hierdie nuwe dinamika lê daar 'n klompie mooi jare vir graanprodusente voor. Vir die staat en die verbruikers hou dit 'n soliede voedselvoorsiening in. Die pryse sal ons winsgewendheid bepaal en ook die bekostigbaarheid vir die verbruiker, maar ten minste boer ons vooruit!

Jannie de Villiers, Uitvoerende hoofbestuurder