Now it's 'hands in the scrum'
February 2018


JANNIE DE VILLIERS, CEO
The year is going ahead full steam. The combination of prices and climate has once again presented producers with a unique set of circumstances. The other day one of the weathered producers from the North West said to me: 'It has never been like this on my farm. It is middle January and none of the forecasted rain has materialised.'
In the meantime, the governing party has made sure that we will not have a good agriculture year – at least not emotionally. Regardless of the weather, the issue of land reform has donned a new jacket. Now it is not only the speed of land reform that bothers people, but also the price – they now wish to just expropriate without remuneration! That is a lot easier said than done.
It was very clear that the newly elected president of the ANC made sure that a tail be added to the resolution of congress: Only when it does not affect economic growth and food security negatively.
It is expressly in this 'tail' and the manner in which the country's judges maintain the Constitution, that there lies a bit of reassurance. It is, however, now 'hands in the scrum'. We will continue to use the courts to protect our rights as citizens of this country, but this places specific pressure on organised agriculture to clearly spell out the implications of this 'tail' to those who will endeavour to implement this resolution.
There are a specific number of reasons why South Africa is the only country on the African continent who enjoys food security. It is quite incomprehensible that this is so difficult to grasp. Be it as it may, expropriation cannot take place without changing the Constitution. Not a single party in Parliament has enough votes to achieve this. This clause of the Constitutional Act most likely did not get added with­out some compromise. We will protect it with the necessary gravity it deserves.
However, what still is a sign of hopefulness, is that the wheels of justice seem to be turning in other areas too. The Financial Services Board (FSB) recently found one of the big multinational grain tra­ders guilty of market manipulation. During the drought year, this grain trader announced with great fanfare, to all and sundry, that they were busy importing thousands of tons of white maize from Mexico – which had already been sold here in South Africa. Eventually nothing of this came to fruition.
After this, prices began to decline – at great expense to the producers. I am aware that four more cases regarding maize or wheat are still under investigation by the FSB. This alone is a clear message to all participating in the market to remain honest.
At this time of the year it almost feels as if one requires a special app on your cell phone to keep your emotions in check. They jump around as you bring yourself up to speed with the changes in the weather, the political situation and market prices. One would expect that the weather would have a greater effect on the market prices than politics. Emotions drive markets. When a person's emotions become unstable, you tend to speak or make conclusions too quickly. It makes you say or do the wrong things so easily.
So early in the year all these challenges make you think deeply about a lot of things: Why am I here in South Africa and why do I farm? Do I still mean something to the people whom I love?
One of the Biblical David's Psalms which has been set to music, reads: 'Put your hope in God, believing he will still your refuge be'. There is so little that we can do to turn our worries into happiness, therefore I take the advice of David's, the man after God's own heart, to put my hopes and trust in God. Only once we have done that, we can work as if all depended on our own input.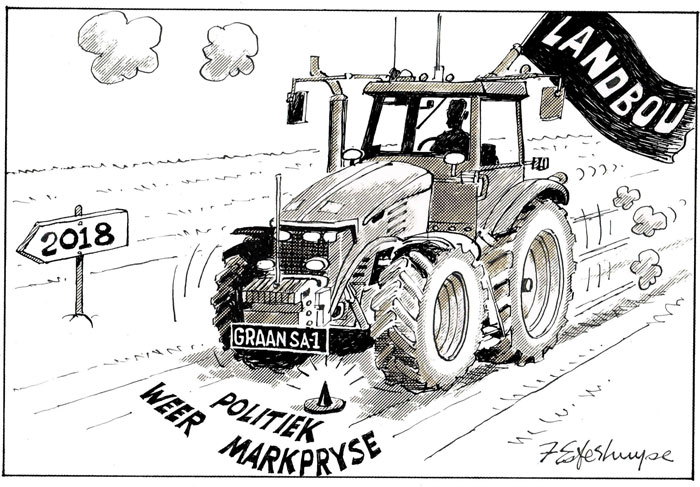 Publication: February 2018
Section: Features