NKGONO JANE SAYS..
March 2018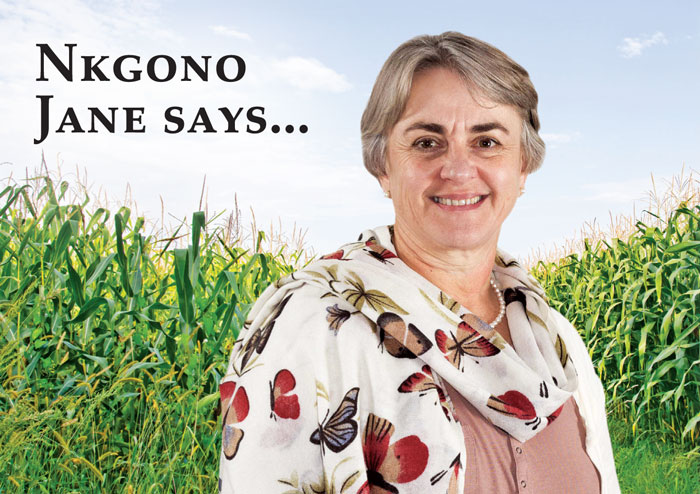 Each month the Pula Imvula gives me an opportunity to share some thoughts with you. We are living in challenging times and we face continuous change and uncertainty. Change is often difficult for people and it is the fear of the unknown that is most challenging.
'Change your thoughts and you change your world' – Norman Vincent Peale. This is a beautiful quote in that the idea is that each of us lives in our own world, our own reality. We hope for things that no one else may be hoping for, we fear things that no one else might be afraid of. We cry about things that may not make anyone else sad. Each one of us is responsible for our own thoughts and if you change your own thoughts, you can change your own world.
In your world, you might be worried about food security, your own safety, the drought, maybe floods, money, education, health. Sometimes what we need to do is to start thinking differently – think about new ways to look at things, new ways to do old things, new things to do, new crops to plant. Let us try not to fear the changes that our society needs. We need to embrace change and be part of the new world that we are creating. We need to adapt, take courage and take the next step that might take you to a completely new destination.
Politically there are many uncertainties facing our country now. We dream of a new world where we can all be part of a successful nation, vibrant economy, reduced poverty and inequality. George Bernard Shaw said: 'Progress is impossible without change, and those who cannot change their minds cannot change anything'. Look around you and see how you can become a force for positive changes in your home, your community and in our country. Do what you can do and try to make a difference. Remember, God said to love your neighbour – reach out to your neighbour, love him and become part of a greater movement towards positive change in our lives and in our world.
'That is how change happens. One gesture. One person. One moment at a time' – Libba Bray.
Publication: March 2018
Section: Pula/Imvula