Nkgono Jane says...
November 2015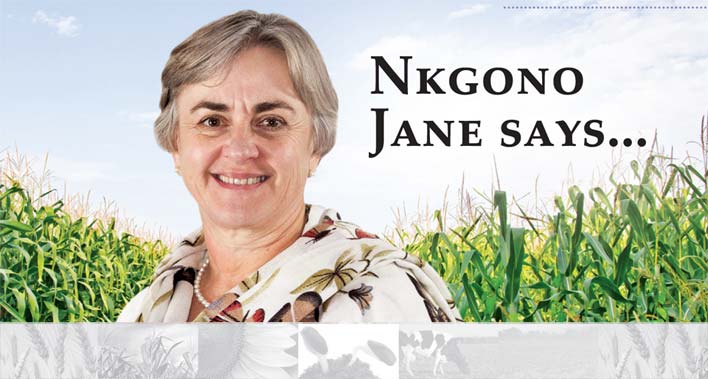 In this Pula Imvula is an article about land tenure systems in South Africa. Irrespective of your system of tenure, and whether or not you "own" the land, the most important aspect of farming is the use of the land. After all, all of us only use the land – it belongs to the future generations. Everyone who has access to land needs to be put in a position to use the land productively. It is the use of land that enables farmers to feed themselves and the nation. Unfortunately we have many farmers with land which they cannot use because they do not have any mechanisation or production inputs – this is the challenge we are trying to address.
Once again, we have become aware of various organisations that are exploiting farmers while pretending to be helping then. They say they are doing "farmer development" whereas they are actually enriching themselves in the process. I have seen the budgets of some of these projects and their production costs are often double those of the commercial farmers. The use of contractors is not something new to any of us, but in so many cases, this is where "exorbitant profits" are hidden. Your mechanisation costs should not exceed R1 800/ha for all operations and it is not uncommon to see budgets of more than R3 000/ha. In these cases, the contractors are the ones making the money. One budget that crossed my table recently included R2 000/ha for the "identification of the farmers" – this is a scandal! When you challenge these people they say that it is fine because the farmers are getting "grants" from Government. I cannot agree with this – grants come from the taxes we pay as citizens and we should not allow the misappropriation of these taxes.
We are very excited about the Jobs Fund project that we will be doing for the coming four years – this year we will be helping 1 700 farmers to use modern production practices on their 1 hectare lands in the communal rural areas. It does not matter if you only have access to a little land – on that land you too can achieve commercial yields. You can feed your family and contribute to the South African food basket.
Seize the opportunity you have to produce food for our nation – you are needed to make your contribution.
Publication: November 2015
Section: Pula/Imvula