NKGONO JANE SAYS...
May 2018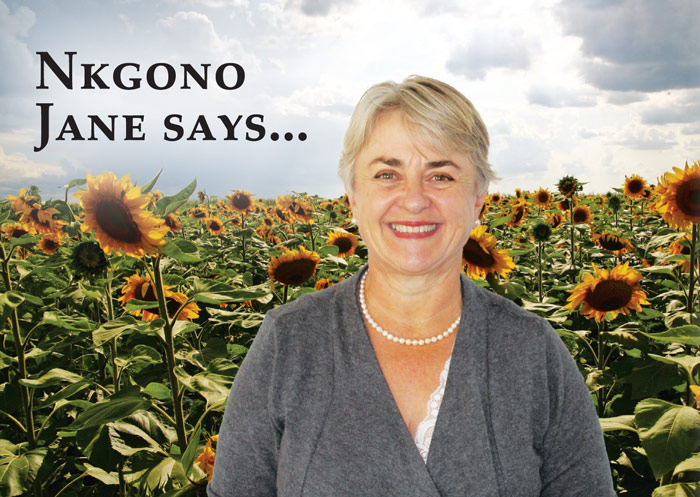 It is May – this means that is it NAMPO again – one of the biggest agricultural shows in Africa. I do hope that you are planning a trip to NAMPO this year and I am sure that you will not be disappointed. Please remember to wear flat shoes and comfortable clothes as you will walk a lot!
During NAMPO, you will be exposed to the most modern aspects of farming in general and grain farming in particular. Most of the technology that is being developed will benefit farmers of all sizes – development relating to seed, fertilisers and chemicals are for everybody. There is also mechanisation for everyone – from the smallest farmers to the very largest farmers. The only difference is the size of the equipment which should relate to the size of the land that you are working.
Personnel from Grain SA will be in the Grain SA exhibition at all times – please come and find us there for a chat – we love to see you at NAMPO.
As we get older, the months seem to pass faster and faster and I am tempted to remind you to start putting your money away towards the next crop. It is really important that we make every effort to have the money ready to buy inputs long before the season starts so that we are able to plant when the conditions are at their best.
Soon you should be harvesting maize – I hope that you will be surprised by the good crop – it is good to be rewarded for your efforts. It has not been an easy season and if your harvest is not as good as you hoped, perhaps you could reflect on everything and try to do better next year (or forgive yourself if the poorer crop was due to the weather and not your doing).
I keep reminding myself that farming is about using land – our major priority for this year is to help everyone to use the land they have. Start where you are, with what you have – gain experience and then those who want to be commercial farmers can grow from a strong base of knowledge and experience. Do what you can where you are!

Publication: May 2018
Section: Pula/Imvula