Nkgono Jane says...
April 2017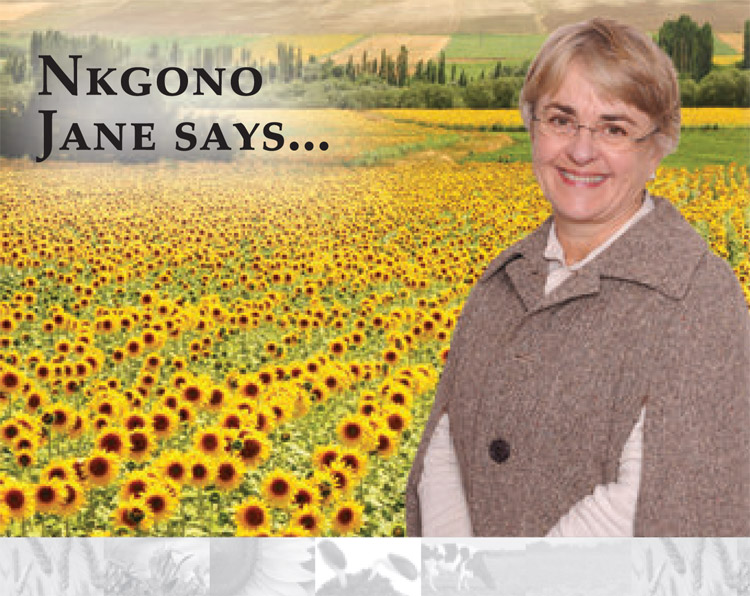 We have recently travelled widely around the grain producing areas of South Africa and all the crops are beautiful. We are so appreciative of the rains that have fallen so that our households and our nation can be food secure. To have food is a most basic human need and we are glad to assist the farmers who are feeding our nation.
As with everything, there are challenges. Now that we have a good crop on hand we need to think about harvesting and storage. In terms of the health risks relating to food, we need to pay attention to the ways in which we harvest and store grains. It is really important that we should assist our grains to dry out completely while exposed to air flow – storing damp grain will increase the risks relating to fungal development and these fungi lead to the development of mycotoxins. Dear farmer – remember that your crop is food for people and animals and your task is not completed until your crop is dry and stored safely.
Once you have a surplus of grain, you can sell (to earn money) and you can also feed your household. This household includes your poultry and your livestock, both large and small. During a recent visit to small farmers in the Mthatha area, I was reminded of the value of more grain within the household – one particular farmer mentioned how she is able to feed the fowls, Muscovy ducks, goats, sheep and cattle. Having adequate food will increase the productivity of all your livestock.
During May, the NAMPO Harvest Day will be taking place in Bothaville again (in the Free State). This year we will be having a special exhibition of equipment for the small farmers. This is a great opportunity to experience the greater grain industry – input suppliers, suppliers of mechanisation as well as many other stalls of interest. We hope to see you at NAMPO 2017.
Let us enjoy the rest of this Autumn season – soon you will be working very hard to bring in the harvest. We have been so blessed and we need to count our blessings and appreciate the good crops.
Publication: April 2017
Section: Pula/Imvula