Nkgono Jane says...
March 2017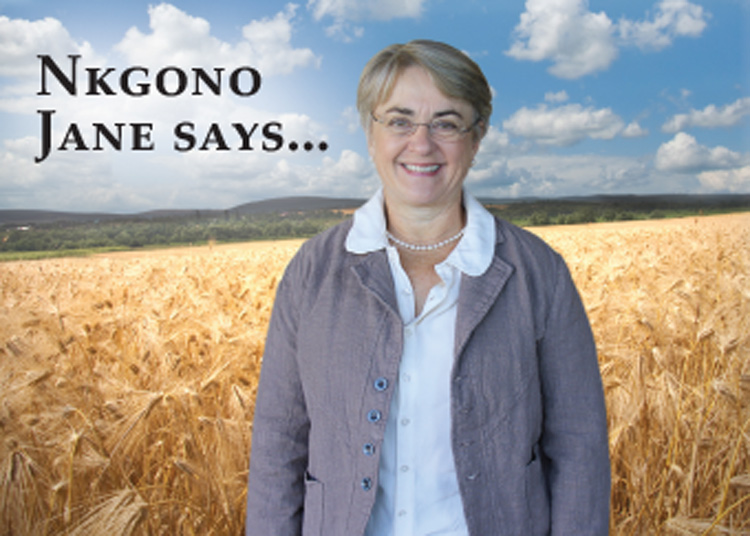 Farming is the same each year and yet farming is totally different each year. This time last year we were in the grips of the worst drought in living memory and the prices of the summer grains were rising. This year we have experienced good rains and the crops are very promising – now the prices are dropping.
When we ask farmers 'would you like a poor crop at a high price, or a good crop at a lower price', the farmers always choose the latter. At least you have been rewarded for your efforts and you have some bargaining power. Also your belief in yourself and your abilities as a farmer has been restored. Yes, the challenge this year is to market to your best advantage. Most of the farmers who are part of the Jobs Fund project are also expecting a very good crop – for many farmers attaining a good commercial yield is a start for them. Attaining the best possible yield with the natural resources at your disposal is our measure of success.
We cannot influence the size of the land available to each farmer, but with good training and mentoring, as well as access to good inputs, even the smallest farmers can achieve a good yield. This ensures household food security and also contributes to the national food basket. We must all do the little we can do and the sum total will be great for our country. Giving is one of the great privileges in life – to be able to give of what you have.
In a year of surplus, we are all afforded the opportunity to give to those who are less fortunate. There are so many people in our country who do not have enough – you are not able to help them in a way that may be easier for you than last year. Please look around and be aware of the elderly and the young who may be reliant on your generosity for their survival. Much has been given to the grain farmers this year and much will be expected from us – we are able to feed our country. What a Blessing!
Publication: March 2017
Section: Pula/Imvula