Nkgono Jane says...
October 2016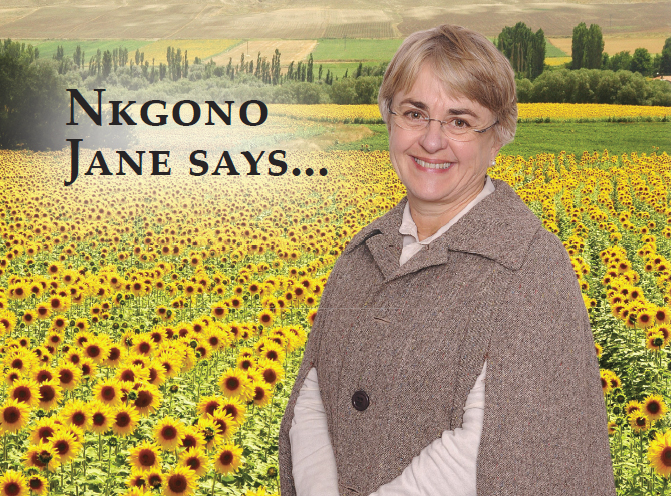 We are delighted to be able to tell you that the Maize Trust has approved the funding for the Pula Imvula for the coming twelve months. We are very dependent on the Maize Trust for the major funding for the Pula and we are indeed grateful to them for the approval of twelve editions for this coming year. We would also like to thank the other sponsors of the Pula Imvula – the Winter Cereals Trust, the Oil and Protein Seed Development Trust. A further thanks to the commercial donors (Monsanto particularly) who bear the costs of the expanded English version.
During September we held our Day of Celebration in Bloemfontein. This is always a very joyous occasion where we celebrate success and progress. Congratulations to the winners of each category and thanks to the sponsors who make the day possible. The winner of the New Era Commercial Farmer of the Year competition will be announced in Johannesburg on 14 October – we believe that 'the best man will win'!
Our Jobs Fund project has expanded very well for this coming season. We have exceeded all expectations and overshot the targets in the project proposal. We really hope that this season will enable the farmers to harvest the fruits of their labour – last year was difficult because of the drought. We wish to express our thanks to the partners in this project – the Jobs Fund of the National Treasury, the Sasol Trust, the Department of Rural Development, Monsanto, Syngenta, Kynoch and SA Lime and Gypsum. Thanks also to the personnel in the programme who agree to doing more work each year so that farmers can be assisted. Well done and thank you to you all.
At the end of September, Danie van den Berg retired from service. Danie presented our first course in Bothaville on 20 June 2005. Danie has been with us since then and has made a huge contribution to our entire programme. Fortunately Danie will still assist with courses from time to time. Thank you Danie for the part you have played in our programme – you have touched the lives of many farmers throughout South Africa.
Publication: October 2016
Section: Pula/Imvula