Nkgono Jane says...
August 2016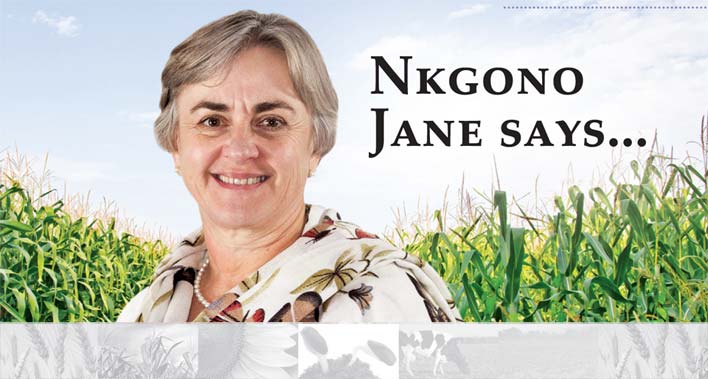 'It doesn't matter who you are, where you come from. The ability to triumph begins with you. Always.'– Oprah Winfrey
We are all being faced with challenges of all different types. At some time or another, everyone becomes despondent and tired of trying. However, we never know when there will be something good about to happen. This year, many farmers had a very poor harvest due to the drought. We must keep positive now and believe that we will have a good season this year. Perhaps we must even go so far as to think about where we will market the maize if we have a very good crop!
As farmers, we have to continue to learn and adapt to more modern practices – as there are a lot more people on earth and the land is limited, we have to learn how to produce more food from less land. The only way to do this is to use the most modern technology and modern production practices. It is really necessary for you to be using the best seed, fertiliser and chemicals that you possibly can so that you can get the best yields possible. In this way you will not only have more for your family, but you will also have more to contribute to the 'national food basket'.
I hope that many of you have benefited from the study group meetings, the demonstration trials, the Farmers days as well as the Pula Imvula and the training courses. We are hoping to be able to continue with all these services although we are experiencing extreme pressure on the funding. We are doing our very best to find sufficient funding to be able to continue to fund all these activities.
Our function for the Farmer of the Year competition and Day of Celebration is planned for 22 September in Bloemfontein. I hope to see many of you there to enjoy the day with us.
Keep warm and keep going forward with hope in your hearts.
Publication: August 2016
Section: Pula/Imvula