Nkgono Jane says...
July 2015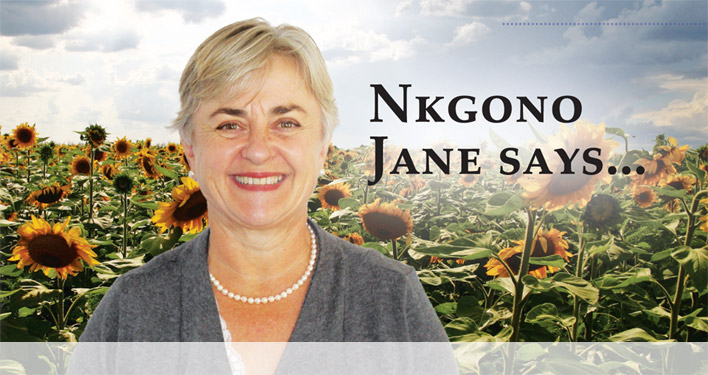 Harvesting will be completed this month and I believe that many of you will be happy about the yields that you have achieved. We are sad for those who worked hard and have not managed to get a crop this year due to the drought. We hope that you will be able to plant again in this coming season.
Not all people in our country have access to the same amount of land – some people have access to 1 hectare or 2 hectares and others have access to hundreds of hectares. That is the reality of our country and other countries too. However, it is possible for each of use to make good use of the land that we have available – it does not matter how much land you have, what matters is how you are using it.
This year, through our subsistence farmer programme which we implemented with the help of the ARC, Monsanto and Omnia, we were able to assist 855 farmers each to plant their 1 hectare using the most modern practices and inputs. Every farmer in the project achieved more than double the previous yields. It may not be a lot to say that the farmer produced 4 tons of maize. In terms of the national production figures, it is not a lot. But if that farmer has only ever had 2 tons in the past and now has 4 tons, this is a huge improvement. This means that the farmer has household food security, can feed his/her livestock, and can also supply the neighbours or the local market. This is progress and this is also commercial farming.
I would like to appeal to every Pula Imvula reader – use the land that you have available this year to be best of your ability – take your soil samples, fertilise correctly, use the best seed that you can afford and remember to control the weeds as they are your enemy. If we all do the best that we can with what we have, our entire nation will benefit.
Publication: July 2015
Section: Pula/Imvula