Nkgono Jane says...
July 2016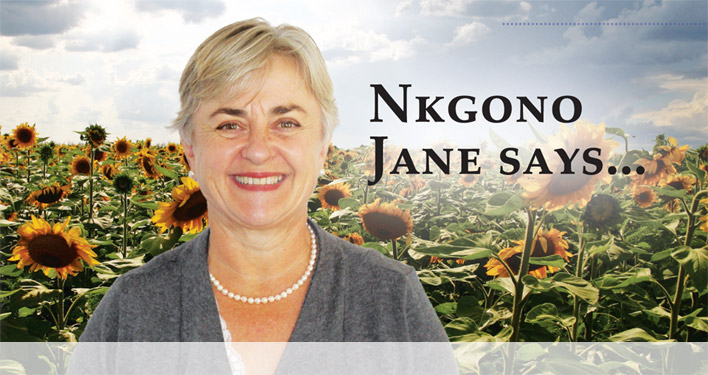 The winter came late this year but at last we are experiencing very cold weather and the Cape is receiving the rain that they need for their wheat and barley crops. We hope that this year will be a 'normal' one during which we receive adequate rains at the right time.
Many farmers who were part of the Jobs Fund project this year have had a huge crop – doing the right thing at the right time really paid off. In the past, many of these farmers only produced enough maize for the family to eat and there was nothing left to sell. Through this project, they have a crop to harvest and to sell. The crop has been so good that we had to help them to buy threshing machines – some farmers got more than 8 t/ha. This is a great yield even for a commercial farmer! We are so happy for the farmers as they have been well rewarded for their efforts and not only are they feeding their families, but also contributing towards food security in our country. The number of farmers and the hectares they are to plant in this next season has more than doubled – we are planning for 3 400 farmers on 5 300 hectares. This is great progress and we thank the farmers as well as National Treasury (through the Jobs Fund), Monsanto, Syngenta, Kynoch, SA Lime and Gypsum, the Sasol Trust and the Department of Rural Development and Land Reform for making this dream come true.
We have realised that only about 20% of the land available to our developing farmers is being planted – 80% of this land is lying unused because the farmers do not have access to production inputs and they do not have mechanisation. This is a very sad state of affairs and Grain SA is trying even more ways to enable farmers to get into crop production. There is a lot of money being spent in this sector but we are not seeing the fruits of the efforts – as the industry, we are going to have to work harder to make sure that all the money is used in the best possible way to benefit the farmers and produce food for the country.
August is going to be an exciting month due to the local elections that will take place on 3 August. Please remember that this is your chance to vote for the changes you desire and the service delivery you deserve. Remember to use the vote that you have – you must be the change that you want to see in the world.
Good luck to you and I hope the harvest exceeds your expectations.
Publication: July 2016
Section: Pula/Imvula