Nkgono Jane says...
January 2016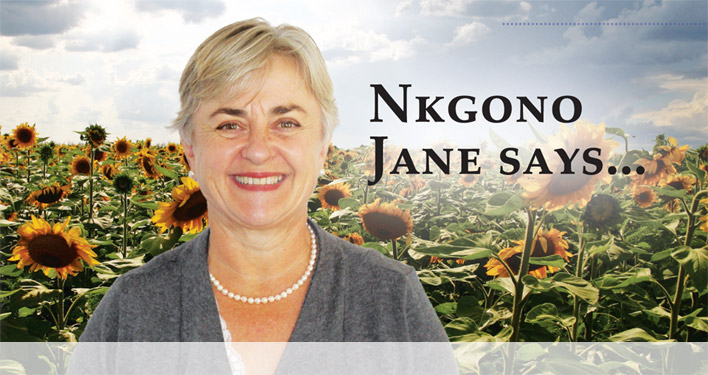 So many people will have taken leave over the holiday period but you, the farmers, will have worked hard to ensure that the nation has food. How blessed we are to have farmers who are prepared to give up so much for us – we salute you for your hard work!
In the media we hear a lot about 'transformation' – what is this thing called 'transformation'? In the dictionary it is described as 'change for the better'. All the work that we do in this programme is aimed at transformation – we want to make changes that will improve the lives of our members, the food security in South Africa, land use, enable black farmers to use the land they have, attain higher yields, reduce production costs, skill and equip people to run their own farming businesses, disseminate information and excite children about the entire agricultural sector – all aimed at making a change for the better.
People are generally afraid of change and so they resist it – they like to go on doing what they have always done because they feel safe. Changing brings stress and this is not comfortable. This is true of farmers too who often resist trying new and modern production practices and preferring to do what their fathers did. In our programme we are trying to guide everyone to the most modern, sustainable, cost effective and safe way of producing food for our nation. Through all the different activities, farmers are exposed to modern ways which can really make a change for the better.
At the time of writing this message, there has been no rain in the summer crop production areas – everyone is worried about the season ahead. By now we will know whether or not you were able to plant your crops. Fortunately for the nation, farmers are optimistic and positive people who are prepared to risk a lot so as to grow crops. We hope that this year will bring rewards to you which will enable you to plant again next year. May we never forget that farmers feed – people and animals rely on farmers for their food.
It is January and the insects will be very active in your crops – please be diligent in scouting for problems – your attention to the crops could save your crop.
Be Blessed.
Publication: January 2016
Section: Pula/Imvula