New high-tech line to increase output capabilities and improve efficiencies
February 2015

USMAN ALY, for Syngenta
In November last year, Syngenta announced the expansion of its Brits Formulation, Fill & Packaging Plant (FF&P) site in the North West Province. The operation will add an automated herbicide filling line.
Syngenta has invested approximately R20 million in the expansion and the new line is expected to significantly boost herbicide production to satisfy the strong demand on the continent. The FF&P site in Brits is Syngenta's only site of its kind in Africa and is a key part of the company's growth strategy in Africa.
Mr Paul Claxton (head of the Brits Formulation, Fill & Packaging site) said: "The expanded facility will contribute to realising Africa's agricultural potential. It will also help us to serve the growing requirements on the continent more effectively, reduce time to market and improve efficiencies by significantly increasing our previous filling capabilities."
Syngenta revealed that the investment is in line with the company's commitment made in May 2012 of building a billion business in Africa over the next ten years. Through this commitment, the company promises to make a cumulative investment of over $ 500 mil lion in Africa; recruit and train African employees and develop distribution channel networks, local production facilities with local partners and increase access to technology to both smallholders and large scale producers on the continent.
Claxton also mentioned that the expansion supports The Good Growth Plan – Syngenta's bold, measurable programme to help producers across the world to grow more food using fewer resources, while protecting nature and improving life for people in rural communities.
"Our strategy is that such an investment in the facility is on the trajectory of solving the world's toughest challenges of population growth, demand for more food and strain on resources such as land, water and energy," said Claxton.
One of the key constraints to increasing crop production in Africa is poor weed control, with current methods falling significantly short. While smallholder farmers have historically fought weeds with tillage and hand weeding, tilling has serious long-term consequences like soil erosion. For this reason, herbicides have become the foremost weed management tool in no-till agriculture.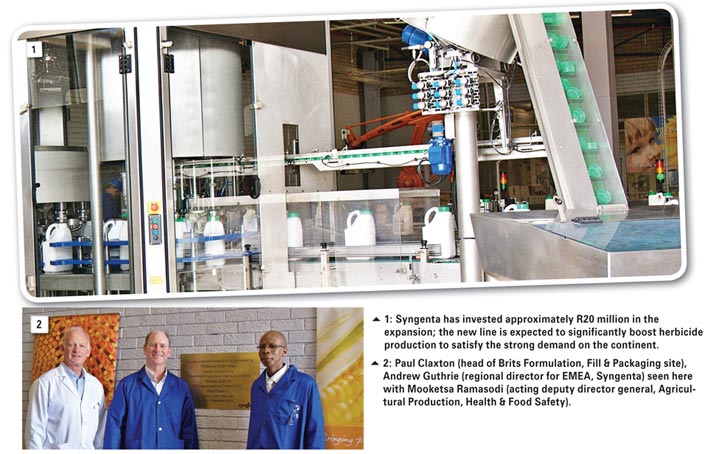 Publication: February 2015
Section: Relevant