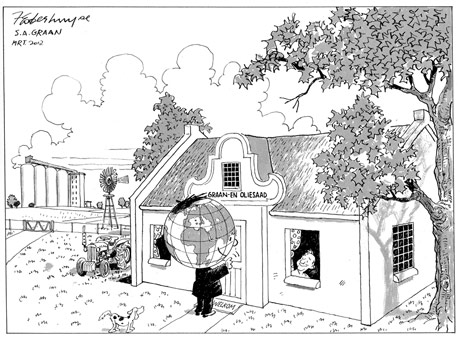 As with 1997, the year when South Africa deregulated its agricultural markets, 2011 will most likely be remembered as the year when the dynamics in the grain industry shifted to another gear.
Grain availability for a continuously growing world population, changes in eating habits and an expanding middle class population in developing eco-nomies as well as the development of biofuels, brought about a permanent change in our market environment. Lastly, climate changes affected the traditional grain export countries to such an extent that South Africa benefited greatly from it.
The re-entrance of South Africa as a grain and oilseeds exporting country, has introduced an era where it will not be business as usual anymore here on the home front. The exposure of our maize to large import countries, including the ever hungry China, are causing sleepless nights with our local buyers. Their policy of "we only buy three months in advance" and their attitude of "there will always be enough locally" will definitely be severely tested in the years that lie ahead.
What a sweet sound it must have been when our Western Cape producers heard the voices of the animal feed buyers on the other side of the tele-phone line enquiring about bread wheat for their poultry! This new dynamic might even lead to a feed wheat and feed barley market sinking the incessant location differential.
This market dynamic, however, also has another side. Buyers and grain processors will test new ways in an endeavour to balance this power shift. Some are turning to politicians to intervene in the market while others are just pulling out their hair.
Most likely it is still too early to say, but this ultimate shift could be compared to the shift in political power after an election. Only time will tell how much longer this situation will endure and what else might still jump out of the bag during the anxious months of March/April/May.
The other space to watch is whether negotiation or confrontation is the best manner to settle the question of land reform. The possibility to follow a more confrontational route in conjunction with organised labour definitely is an out of the box approach that should be considered.
Allow me to stick out my neck in predicting the following:
High yields in maize and soybeans is a permanent feature to remain with us.
Biofuel offers new buyers of grains/oilseeds.
Permanent foreign buyers are a reality.
Crises in world grain and oilseed production as a result of climate change will be a constant occurence.
There are new feed market opportunities for winter grains.
Trading around formal silo structures is reaching significant volumes.
Minimum or no-till production practices will make a difference in profitability.
Producers are conducting private imported cultivar trials.
Grain buying in South Africa is also no more just business as usual.
Given the new dynamics, a number of good years lie ahead for grain producers. For the government and consumers it promises solid food security. Prices will determine our profitability and also the affordability
to the consumers, but at least we are forging ahead!

Jannie de Villiers, CEO