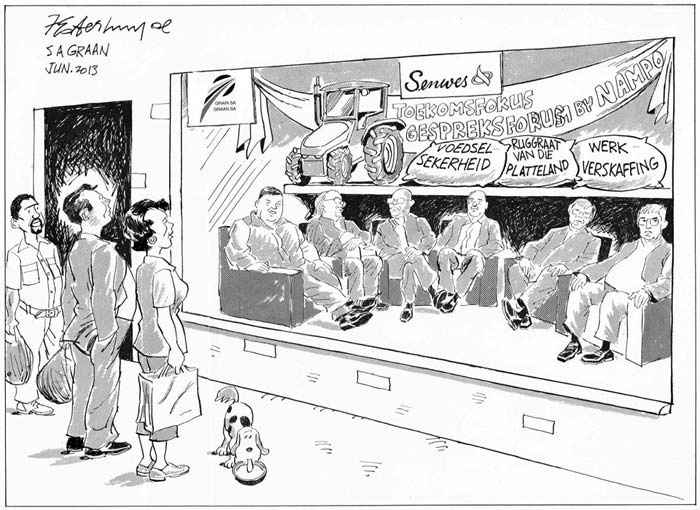 So twee NAMPO's gelede het die leierskap van Graan SA in 'n nabetragtingsessie onder 'n boom gesit en vir mekaar gesê dat ons baie meer uit Graan SA se NAMPO Oesdag kan haal as wat ons op daardie tydstip gekry het.
Ons het begin fokus op 'n nuwe kant van NAMPO en dit is om 'n platform en beeldbou-aksie aan te haak aan die suksesvolle basis wat ons voorgangers alreeds gevestig het. Met ander woorde – 'n behoorlike vergelykende geleentheid van alle tipes insette en om 'n wins te maak wat Graan SA weer kan gebruik om 'n beter diens aan sy lede te lewer.
Die netwerkgeleentheid wat die Oesdag bied, is soos die vrye mark – jy hoef dit nie aan te moedig nie, dit gebeur sommer vanself. Dit bly maar net lekker om die spontaneïteit van ou vriende en familie te sien as hulle mekaar daar op die terrein raakloop.
My Oesdag het egter op 'n baie hartseer noot afgeskop toe ek saam met 'n produsent en sy vrou 'n baie emosionele gesprek gehad het oor die impak van die droogte op hulle plaas.
Op die Vrydag van die Oesdag het ek self my twee susters en broer (en al my kinders) by NAMPO bymekaargekry om sommer net die dag daar saam te wees en die samesyn te geniet. My vrou was die hele week daar. Nie net wou ek hê hulle moes alles daar sien en beleef nie, ek wou ook sommer net met hulle, wat my deur die jare ondersteun, deel wat die Oesdag alles behels. Dit was vir my 'n wonderlike voorreg!
Wat my meer opgewonde maak, is die nuwe rigting wat ons vennote besig is om op die "NAMPO"-platform in te slaan: Die gespreksforum van Senwes was 'n uitstekende voorbeeld hiervan. Ek vertrou regtig dat hierdie tipe ding vorentoe heelwat waarde tot die landbou gaan voeg.
Om gesiene joernaliste en sterk opinievormers in ons gemeenskap te hoor sê: "Dit is my eerste NAMPO en ek is uit my sokkies verras," is nie net goed vir ons ego nie, maar presies dit waaroor die leierskap so 'n jaar of wat gelede gesit en droom het.
'n Ander groep wat so stilweg tydens NAMPO vergader het, was die Registrateur van Wet 36 en ons CropLife vennote, Syngenta en Bayer. Ek weet nie of die registrateur andersins vir 'n dag na NAMPO Park sou kom nie. Vir besige mense is dit ver van Pretoria af, maar ek reken ons gaan baie van die eerste-keer-besoekers weer daar sien.
Van ons ander vennote, soos Astral, het sommer hand in die sak gesteek en begin belê in die konsep van vennootskappe en die beeld wat NAMPO uitdra.
Ons is regtig nederig oor die wyse waarop Graan SA die landbousektor kan help om ons beeld te bou. Dit is lekker om die groot politieke leiers van ons kontinent te verwelkom met ons boeregasvryheid en om ons stukkies genade met hulle te kan deel.
Dit was lekker om vir die Nigeriese-afvaardiging te kon vertel hoe die privaat sektor en die regering in Suid-Afrika saamwerk om voedselsekerheid te handhaaf. Dit is heerlik om te sien hoe pa en seun na trekkers en no-till-planters kyk en somme maak om meer voedsel vir die land te kan produseer. Positiewe mense!
Dankie aan die hoofbestuurslede wat mense nooi en sportmanne bring sodat kinders sommer net daar tydens NAMPO hul rugbyhelde in lewende lywe kan sien. Dankie aan prof Jonathan Jansen wat ons met sy bydrae en visie help om 'n beter Suid-Afrika van môre te kan sien. Ja, daar is steeds baie dinge in landbou wat nie reg loop nie, maar hier op ons werf het dinge hierdie jaar goed verloop.
Ek het Saterdagoggend laat wakker geword nadat ek gewonder het of ek ooit ná die week gaan herstel, maar dit was met 'n glimlag en alreeds weer met 'n paar nuwe idees vir NAMPO 2014.
Baie dankie aan almal wat bygedra het tot die sukses van hierdie hoogtepunt op ons jaarprogram. Aan diegene wat nog nie die platform raakgesien het nie – kom drink gerus 'n koppie koffie hier by ons Graan SA-kantore sodat ons nog beter prentjies kan maak van 'n mooi toekoms vir ons land. Ons opregte dank aan die Vader wat alles moontlik maak.

Jannie de Villiers, Uitvoerende hoofbestuurder