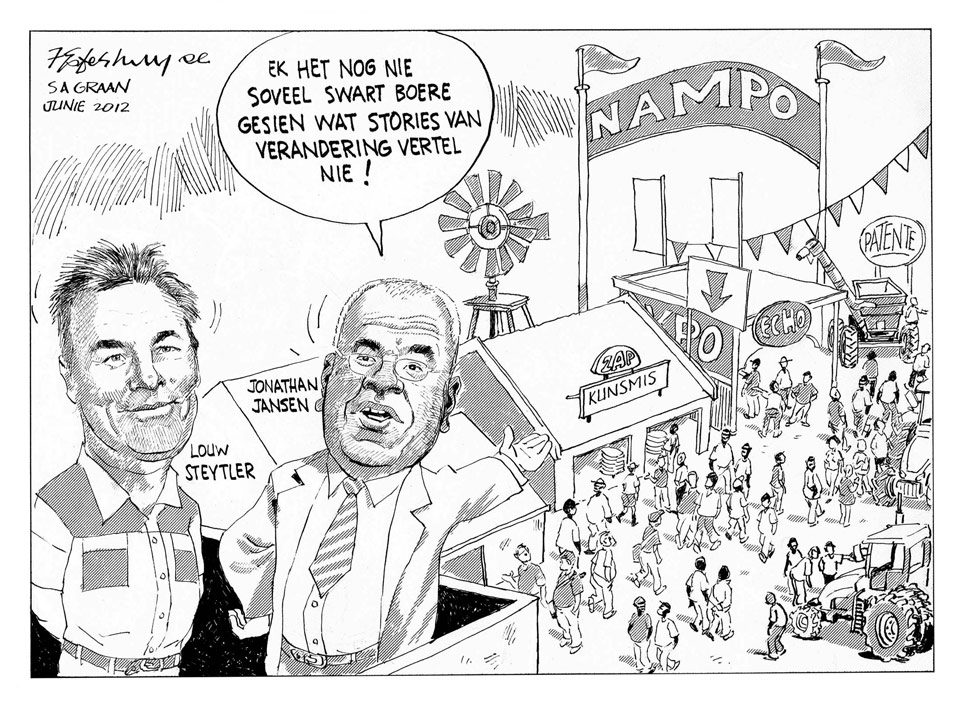 In our post mortem of Grain SA's NAMPO Harvest Day 2012, we earnestly asked ourselves what we had achieved.
The goals are to bring producers and exhibitors together where producers not only can observe the most recent technology, but also be able to make proper comparisons in view of their requirements. To achieve the ideal dream, we must be able to produce grain and oilseeds profitably at export parity. For this, only the best technology is required.
Secondly, the Harvest Day also offers the opportunity to be able to network. For me it was just as if my office moved to NAMPO Park for the week. My diary was fully booked from early mornings until late in the evenings. It was good to receive fresh information about the progress of the harvesting from our members, have discussions with partners in the value chain about their plans for the future and watch the processors as they moved among the exhibitors.
Thirdly, NAMPO is and remains an event for a little bit of boasting and to show the city-dwellers what grain production really is about. The many remarks by first time visitors, especially from the political circles and public service sector, left one with a warm feeling wondering why they only now came to visit. We have, as in the past, received quite a number of important guests as well as many overseas visitors.
It is a pity though that many of our own people did not see their way open to come and inform themselves about the status of our agricultural sector. We, however, have sincere appreciation for key people in agriculture and leadership of our country who did pay a visit.
Professor Jonathan Jansen's remark on Twitter regarding agriculture's advances with transformation, gives one hope that a voice of reason still does exist. He said: "NAMPO is taking the lead in the transformation of agriculture in our country. I have never in my life seen so many black farmers tell their stories about transformation."
Lastly, Grain SA also uses the event to augment our finances enabling us to improve our service to our members and to the country in general. The weather was beautiful and with our own Grain SA Radio station, I sincerely hope that everyone had the same positive experience as I had.
The remark by the assistant minister for Agriculture of Botswana (Hon O.S. Molebatsi), was another highlight: "NAMPO has shown that the SADC can provide food for itself." Thus we give hope to our continent to be able to not just view food security as a dream.
After NAMPO 2012 I went to sleep tired, but with a smile on my face!

Jannie de Villiers, CEO