LOUISE KUNZ, SA GRAAN/GRAIN MEDEWERKER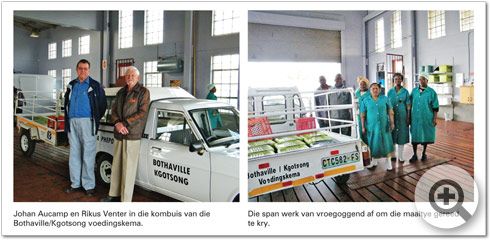 Om vir tien jaar ongeveer 13 000 maaltye per maand te voorsien, is beslis 'n bewys van welwillendheid deur die gemeenskap van Bothaville.
Die Bothaville/Kgotsong voedingskema, beter bekend as "Die Sopkombuis", bestaan reeds tien jaar en stigterslid, Rikus Venter (81), staan verstom oor die barmhartigheid van die Bothaville-gemeenskap. Sedert hul ontstaan was dit nog nooit vir hulle nodig om donasies te vra of bakhand te staan nie. "As ons weer sien, het iemand iets kom aflewer en ons is baie dankbaar om te sien dat naasteliefde nog bestaan," sê hy.
Toe oom Rikus jare gelede gekonfronteer is met die boodskap van Sternberg se bekende skildery in die kunsgalery in Düsseldorf, Duitsland, waar Christus voor Pilatus staan, het hy geweet dat hy met 'n inisiatief vorendag wil kom wat 'n verskil in mense se lewens kan maak.
Die bewoording onderaan die skildery: "Dit het Ek vir jou gedoen; wat doen jy vir my?" het hom diep geraak en saam met die Barmhartigheidskommissie van die drie NGgemeentes op Bothaville, is die sopkombuis op die been gebring. Dié gemeentes het die aankoop van 'n afleweringsvoertuig en koelkamer vir die sopkombuis ook moontlik gemaak.
Hierdie projek word slegs deur donateurs aan die lewe gehou en hulle sorg dat baie voorskoolse kinders en oumense 'n warm bord kos kan ontvang. Dit is veral die produsente in die omgewing wat ruimhartig bydra, soos 'n graanprodusent wat maandeliks 20 sakke meel kom aflewer. In 2011 is daar 70 ton mielies by die silo afgelewer vir die sopkombuis se gebruik.
Die twee wortelplase in die area lewer ook ongeveer 36 kratte wortels per week, wat dan verwerk word vir die bredies wat saam met die pap en stampmielies of in die sop gebruik word. Soms word 'n bees geskenk en dan is daar van tyd tot tyd ander items, soos aartappelskyfies, melk, jogurt, pampoen, eiers en geurmiddels wat afgelewer word.
Dié oop hande maak dit vir oom Rikus en sy span moontlik om weekliks meer as 3 000 maaltye aan honger en hawelose mense in Bothaville, Kgotsong en Naledi te verskaf. Johan Aucamp, 'n afgetrede bankbestuurder, is as tesourier ook deel van die span en vertel dat hulle drie jaar gelede 'n groot skunking sojarys van die Kids against hunger-projek in Amerika ontvang het.
Hy gaan hulle weer nader vir nog so 'n skenking en ook ondersoek instel na ander skenkers wat moontlik op 'n gereelde basis bydraes kan lewer om sodoende 'n groter verskeidenheid voedsel te bekom. "Dis vir ons 'n sielevreugde om iets vir die gemeenskap te kan doen en te kan sien hoeveel mense nog omgee," noem Johan.
Weeksdae word daar vroegoggend reeds begin met die voorbereiding van die maaltye en die span wat kosmaak werk tot 14:00. Etes word elke weeksdag, publieke vakansiedae uitgesluit, deur vrywilligers uitgedeel en tydens skoolvakansies word daar voorsiening gemaak vir ongeveer 1 000 ekstra honger magies.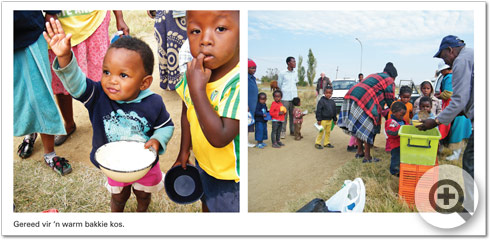 Met die hulp van 'n maatskaplike werker, wat 'n behoeftebepaling doen, word gesinne op Bothaville geïdentifiseer en van 'n gesmeerde brood en 'n bak kos voorsien. Daar is reeds elf huise wat daagliks op dié wyse hul enigste warm maaltyd van die dag ontvang. Haweloses by die Bybel-kiosk en asgate word ook van 'n maaltyd voorsien. In Kgotsong en Naledi word hoofsaaklik voor skoolse kinders en oumense by die 14 be soek punte gevoed. Kinders kom aangehard loop met hul bakkies sodra hul die afleweringsvoertuig en sleepwa gewaar. Terwyl daar afgelaai word, word 'n geestelike boodskap vir hul gespeel en nadat 'n gebed gedoen word, ontvang hulle hul kos. Dit is vir die komitee baie belangrik dat daar na liggaam en siel omgesien word.
Omdat hulle geen kontantinkomste het nie, kon Bothaville se sopkombuis as 'n NPO (nonprofit organisation) registreer en het vir die afgelope twee jaar 'n geldelike bydrae ontvang om bejaardes ook van 'n maaltyd te voorsien. Met die broodnodige kontantdonasies word maalvleis, gespikkelde suikerbone, brood, eiers en ander kruideniersware aangekoop en die ses werknemers se salarisse word ook hieruit betaal asook ander onderhoudkoste wat maandeliks gedek moet word.
Indien jy belangstel om 'n bydrae te lewer, kontak gerus vir Rikus Venter (084 603 0558) of Johan Aucamp (083 414 2976).