JOHANNES LOUW, HOOFBESTUURDER, SASOL NITRO KUNSMISBESIGHEID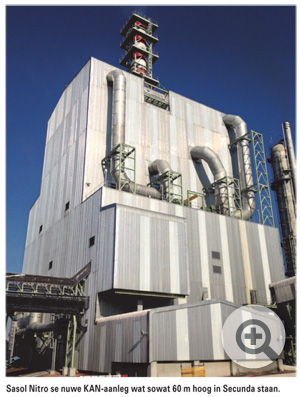 Sasol Nitro het gedurende Oktober 2012 'n nuwe 400 000 ton per jaar KAN (kalksteen ammoniumnitraat)-aanleg in Secunda in bedryf gestel. Dié aanleg, met 'n produksiekapasiteit van 400 000 ton per jaar, is opgerig teen 'n koste van R1 miljard.
Soos tipies die geval is met die inbedryfstelling van nuwe aanlegte van hierdie omvang, het Sasol Nitro gedurende die eerste ses maande deur 'n leerkurwe gegaan om volle ontwerpkapasiteit te bereik.
Teen Mei vanjaar kon Sasol Nitro afteken dat die aanleg teen vol kapasiteit kan produseer. Die korrelhardheid en ander faktore wat kunsmisraklewe beïnvloed, is nou ook van wêreldgehalte en beter as die KAN wat met Sasol Nitro se vorige aanleg geproduseer is.
Die tegnologie en ontwerp van die aanleg bied aan Sasol Nitro opsies vir verdere optimalisering van korrelvorm en korrelgrootteverspreiding wat oor die volgende paar maande onderneem sal word.
Hierdie nuwe aanleg word uitsluitlik vir die produksie van KAN gebruik. KAN-produksie word nie net bepaal deur die kapasiteit van die KAN-aanleg nie, maar word ook deur die beskikbaarheid van ammonium nitraat beïnvloed. Ammoniumnitraat is 'n grondstof vir beide kunsmis- en springstofvervaardiging. Die nuwe aanleg stel Sasol Nitro in staat om die beskikbare ammoniumnitraatkapasiteit optimaal te benut, wat na verwagting tot verhoogde KAN-produksie sal lei. Dit is egter belangrik om daarop te let dat die verhoging in KAN-produksiekapasiteit beperk is weens ammoniumnitraatbeskikbaarheid.
Alhoewel hierdie aanleg bydra tot 'n vermindering in die afhanklikheid van ingevoerde stikstof, is daar steeds 'n groot tekort aan stikstofkunsmis in Suid-Afrika, met sowat 50% invoere. Klante word steeds aanbeveel om hulle kunsmisaankope betyds te finaliseer.
Sasol Nitro se oprigting van hierdie aanleg is die eerste belegging in korrelkunsmisvervaardiging van hierdie omvang in Suid-Afrika vir dekades.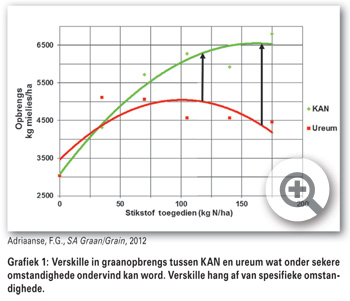 Die nuwe aanleg plaas Sasol Nitro in 'n baie beter posisie vir volhoubare, langer termyn verskaffing van 'n wêreldklasproduk aan die Suid- Afrikaanse bedryf. KAN, relatief tot ingevoerde stikstofprodukte, soos ureum, hou die volgende voordele vir produsente in:
Die stikstof is in 'n vorm wat dadelik vir plante beskikbaar is om op te neem.
Dit is minder waarskynlik om toksiese effekte te hê wanneer hoë konsentrasies naby aan die saad aangewend word.
Dit is minder waarskynlik dat die stikstof verlore kan gaan deur in die grondwater in te loog of in die atmosfeer te ontsnap.
Dit lei tot 'n verminderde risiko van misoeste en hoër opbrengste vir feitlik alle aanwendings.
Sasol Nitro is die voorste vervaardiger van KAN en ammoniumsulfaatkunsmis in Suid-Afrika. Die KAN en ammoniumsulfaatkunsmis word aangevul deur die maatskappy se reeks van ammoniumnitraat en ammoniumsulfaat gebaseerde NPK (stikstof, fosfor en kalium)-kunsmismengsels, beide in vloeibare en korrelvorm.
Die maatskappy bemark ook 'n verskeidenheid van spesialiteitskunsmisprodukte. Enige persoon of instansie kan kunsmis óf direk by Sasol Nitro óf by een van 'n groot aantal kunsmishandelaars wat Sasol Nitro produkte versprei, aankoop.