'n Bedreigde spesie
July 2016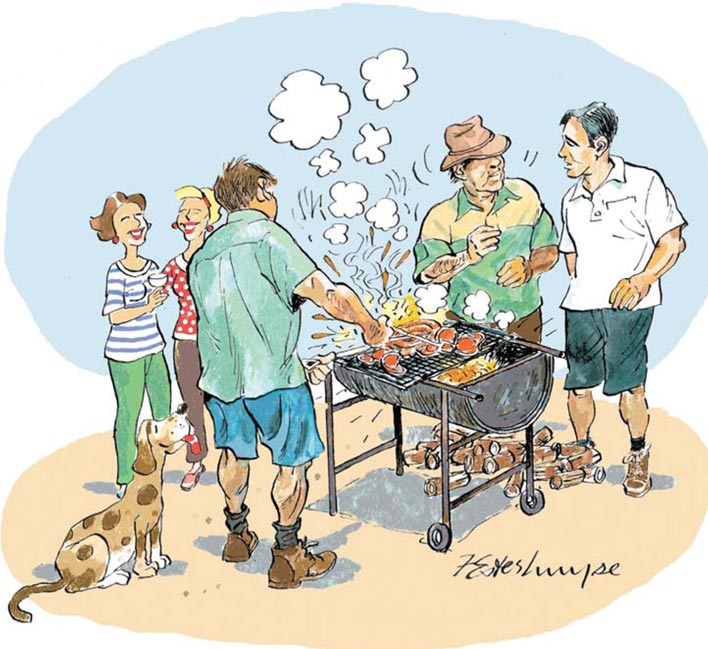 Beste Grootneef
Buurman sê 'n gebraaide skaaptjop in Gauteng en 'n ongebraaide skoolgebou in Limpopo raak nou ewe skaars. Kyk, dit is nou een ding wat ons klompie in die Suidland goed kan doen – en dit is om iets aan die brand te steek. Of dit nou 'n braaivleisvuur of 'n skool is. Dit moet een of ander rekord wees om 23 skole in een nag af te brand!
In my jong dae was al wat by die skool gebrand het, ons agterente – veral op 'n Maandag as die huiswerkies maar halfhartig gedoen was. Ou Jan Plank Fourie sou nie aan sy skool laat brand het nie!
En kom die ellendige matriekuitslae teen jaareinde, kan niemand verstaan wat fout gegaan het nie. Ai!
Ou Neef, behalwe dat die jongetjies in Limpo po dit verkeerd verstaan, sal bring-enbraai nooit weer dieselfde wees nie. 'n Bondeltjie Bosveldhout raak nou 'n eksotiese ding – soos 'n swart rooibok: Skaars en duur!
Die dorpenaars ry die hele Bosveld leeg en op elke hoek staan 'n houtmakelaar met die handelsmerk, "Sikilbos" – maak nie saak watse houtjies in die sakkie gepak is nie. Die kon tantmark vir hout beloop so om en by R17 vir agt stompies, waarvan sommige so kort gesaag is dat dit eintlik net die sakkie vol laat lyk. Die resultaat – ten minste twee sakkies sekelbos om 'n paar tjoppies gaar te kry.
Wat nog te praat van 'n skaaptjoppie op die kole. Die anderdag sien ek in die dorpslaghuis vier eensame, maer skaaptjoppies in 'n pakkie vir R199/kg! Ek onthou nog hoe my pa 'n ou ooi vir R20 uit die hand verkoop het. Ek wonder wat hy sou sê as hy toe kon weet dat 'n pakkie skaaptjops 40 jaar later 'n hele trop ooie werd sou wees!
Teen hierdie pryse sal 'n braaivleisie oor die kole eersdaags net iets wees wat ons verlangs onthou. En waarvan ons die kleinkinders sal vertel – met Google-foto's van hoe dit gelyk het. 'n Gebraaide skaaptjop raak nog in ons tyd 'n bedreigde spesie.
Dan kla ek nog nie eers oor die pryse van brandewyn nie. Met al die sondetaks en die vervoerdifferensiaal van die Kaap tot hier in die noorde, raak dit nou lelik. Dit is nogal die een # wat ek volg: "#brandypricesmustfall"!
Buurman vertel van sy jongste telg wat anderdag so oor die braaivleisvuur 'n happie van sy brêndie en Coke gaps. Die jongeling se gesig trek toe op 'n knop met 'n "siesa" en 'n "gagga" wat uitrol. Buur man gee hom toe terstond 'n lewensles: "Ja, gaan vertel jou ma. Sy dink mos dit is lékker om die goed te drink!"
Groete op die Oosgrens!
Kleinneef
Lesers is welkom om 'n e-pos aan Kleinneef te stuur by kleinneef@graingrowers.co.za.
Publication: July 2016
Section: Features