NICOLENE DE KLERK, LNR-INSTITUUT VIR GRAANGEWASSE, POTCHEFSTROOM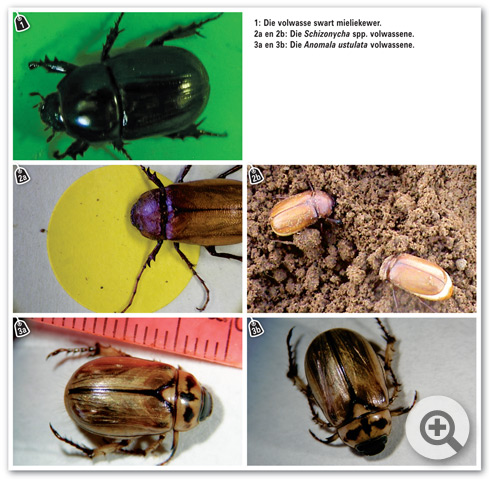 As gevolg van die skerp toename in die verbouing van mielies onder spilpunte gedurende die afgelope twee dekades het daar 'n toename in die voorkoms van miswurms wat mielies aanval, voorgekom. Die rede vir hierdie toename is onbekend.
Swart mieliekewers en lentekewers wat aan die Scarabaeidae-familie behoort, is bekende mielieplae in Suid-Afrika. Volwassenes van die swart mieliekewer is hoofsaaklik vir die meeste skade aan mieliesaailinge verantwoordelik, terwyl die laat larwale stadiums van Anomala ustulata en Schizonycha spp. (laasgenoemde 'n nuutgevonde spesie wat mielies vir die eerste keer aanval), verantwoordelik is vir oesverliese van mielies in Suid-Afrika.
Identifikasie van die larwale stadiums van die familie Scarabaeidae veroorsaak 'n probleem omdat hul eenders lyk en dus word gespesialiseerdekennis benodig om tussen die spesies te onderskei.
Twee areas, naamlik Delareyville in die Noordwes Provinsie en Bergville in KwaZulu-Natal, is gedurende die afgelope seisoen gemoni tor waar twee verskillende spesies van miswurm, A. Ustulata op Delareyville en Schizonycha spp. op Bergville, grootskaalse skade aan die wortelstelsels van mielieplante veroorsaak het.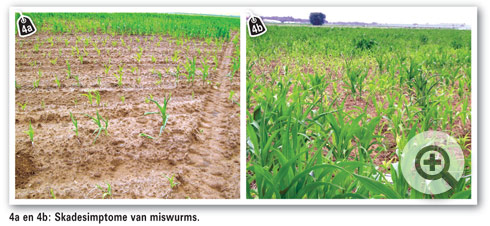 Dit het 'n ernstige verlaging in plantestand meegebring. Beide gebiede het 'n kol-kol verspreiding dwarsdeur die besproeide lande getoon waar die agtblaar-stadium van mielieplante gedurende Januarie 'n verlepte voorkoms gehad het.
Schizonycha by Bergville veroorsaak groot skade aan mielies en kom ten minste vir die afgelope vyf jaar aanhoudend voor. Hierdie kol-kol verspreiding vergroot op 'n jaargrondslag.
Die spesies A. ustulata, wat skade by Delareyville veroorsaak, was vir die eerste keer gerapporteer en moet dus verder gemonitor word ten einde vas te stel of hierdie spesies weer gaan voorkom en/of versprei.
Die voorkoms, verspreiding en status van hierdie plae is onbekend en daar bestaan beperkte beheermaatreëls in Suid-Afrika. Met die bevestiging van die status van hierdie plae, kan verdere studies gedoen word ten einde die beperkte beheermaatreëls wat tans in Suid-Afrika bestaan, te verbeter.
Omdat daar 'n wanindruk bestaan dat miswurms net op verrotte organiese materiaal oorleef, word die skade wat hul aanrig in meeste gevalle toegeskryf aan ander grondbewonende plae, soos aalwurms en/of snywurms.
Op die huidige stadium is daar in Suid-Afrika geen chemiese middels geregistreer vir die beheer van miswurms wat mielieplante aanval nie. Produsente en landboukundiges se hulp word benodig om vas te stel waar hierdie plaag voorkom sodat die omvang van die plaag se status vasgestel kan word en beheermaatreëls vroegtydig ontwikkel kan word.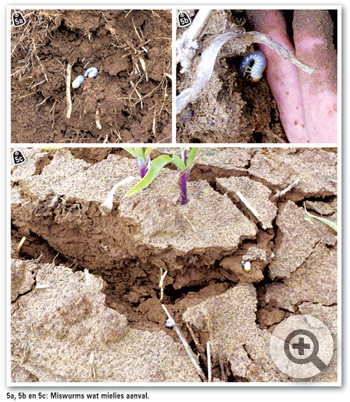 Dankie aan mnr Riaan Stals van die LNR-PPRI in Pretoria wat die spesies geïdentifiseer het. Kontak Nicolene de Klerk van die LNR-IGG in Potchefstroom by (018) 299-6100 of 082 576 8545.