MELD probleme híér aan
April 2016

SA Graan/Grain redaksie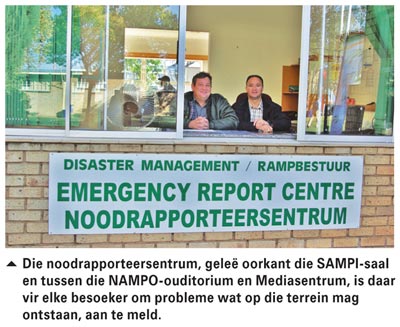 Met duisende besoekers wat jaarliks Graan SA se NAMPO Oesdag besoek, is dit vir die Oesdagkomitee belangrik om probleme wat op die terrein mag ontstaan, so gou moontlik op te los sodat elke besoeker 'n aangename NAMPO-ervaring sal hê.
"Ons vra dat besoekers enige probleme wat hulle mag ondervind met krag, water of badkamers by die noodrapporteersentrum, geleë oorkant die SAMPI-saal en tussen die NAMPO-ouditorium en Mediasentrum, sal aanmeld.
"Besoekers se veiligheid is vir ons belangrik. Daarom sal die Suid-Afrikaanse Polisiediens by dié sentrum en op die terrein aan diens wees, sou jy enige ongelukke of diefstal wou aanmeld," het mnr Wim Venter (administratiewe beampte: Oesdag) gesê.
Indien jy mediese hulp benodig, besoek die personeel van Life Anncron Kliniek en die Wilmed Park Privaat Hospitaal op NAMPO Park. Life Anncron Kliniek sal jy by standplaas 112, langs Mutual & Federal se standplaas, kry. Wilmed Park Privaat Hospitaal is geleë binne die sinkdakgebou, langs die Biertuin.
Publication: April 2016
Section: NAMPO