– Grain SA's Developing Grain Producer of the Year
JOHAN KRIEL, DEVELOPING AGRICULTURE, GRAIN SA
Moleleki Jacob (Koos) Mthimkulu was born on 22 January 1955 on a farm that belonged to Mr Julius Bobbert in the Paul Roux district in the Free State.
He was the fifth of six children. His father, Jan, worked as a tractor driver on the farm, and his mother, Tina, worked as domestic worker for Mr and Mrs Bobbert. Koos has very fond and happy memories of his childhood. Even though they were poor and lived in a house built of turf, life was good; they had enough to eat and they were safe on the farm.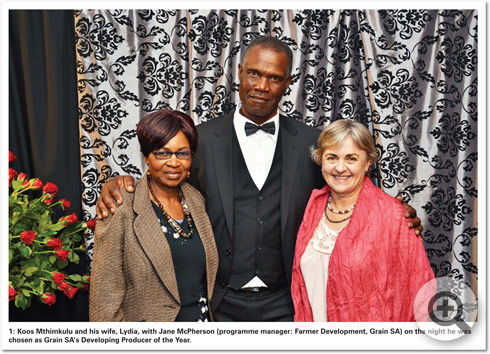 He went to school on the farm until Standard 1 (Grade 3). He did not enjoy school work and left school to play with the farmer's children or to be part of the activities on the farm. He acknowledges that this was a mistake and therefore he is very strict with his children and ensures that they get a good education. "It is bad when you can not even write your own name properly," Koos emphasises.
Later, still at a very young age, Koos started to work on the farm. He was put to use as a shepherd and also assisted at the dairy. Later on he had the opportunity to drive the tractor and to work on the land. This he enjoyed very much, particularly when they planted maize and they surfaced in a row, just like soldiers!
Like all young men, he decided to spread his wings and left his parental home to go and work on Mr Frikkie du Preez's farm, Mieliebult, in the Senekal district. Du Preez played a big role in Koos' development. It was here where Koos became a very reliable tractor operator and he worked with all sorts of implements. Later on he was promoted and became a truck driver.
Du Preez saw that Koos was talented and he started to utilise him in his workshop. Here they not only repaired tractors and farm implements, but also designed and built implements. Du Preez was a perfectionist and everything had to be done the right way – no short-cuts. These days, when you visit Koos on his farm, it is noticeable how well he takes care of his equipment. Everything is clean and painted and the workshop is very tidy with all in its place.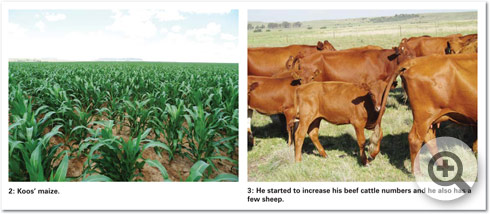 While he worked on the farm, he met Lydia and they got married. She worked on the neighbouring farm and Koos says he had to pay 16 cattle as lobola. After their wedding, she worked as a domestic worker on the farm. They have three children: two daughters and a son. Irene, the eldest, works as a clerk in the magistrate's office in Petrus Steyn. Petunia has a degree in Agriculture and works as an extension officer for the Department of Agriculture, Forestry and Fisheries in Ficksburg and Clifford is studying Agricultural Marketing and Management and farms with his father.
Over time, Du Preez changed to livestock farming. Koos took over his equipment and started to do contract work for other developing and commercial farmers. He paid off the implements as he made money. He then had the opportunity to rent 55 ha of land where he could plant his first harvest for himself. He proudly stated that he harvested 3 tonnes of maize per hectare.
In 2007 he got hold of the farm Astoria in the Senekal district. This farm is 524 ha in total – 134 ha of land and 383 ha of veld. According to the government's land policy, he is only a caretaker of the land and he can not own it. This worries him a lot and he is uncertain about his future.
Koos succeeded in renting 60 ha of land from a neighbour. Now he has almost 200 ha of land that can be used for planting. He also started to increase his number of beef cattle and he also owns a few sheep. He believes that you shouldn't put all your eggs in one basket, because if you fall, then everything is gone. "You have to spread your risk – a beautiful, fat Bonsmara cow with a calf is almost as beautiful as a crop of maize or sunflower that stands yellow on the land," Koos explains.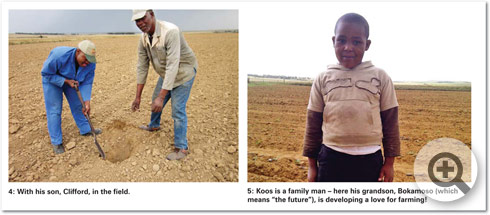 Koos is a member of the Senekal study group of the Grain SA Farmer Development programme. He is very thankful for the training and support that he gets from Grain SA. He says that they opened his eyes and that he does not want to be without their support. He is also very thankful for the support he gets from Du Preez, a retired farmer. He is one of the mentors that Grain SA uses to support the advanced farmers on the farms.
Last year Koos succeeded in producing 250 tonnes of grain. Grain SA is very proud of this farmer and will watch his progress in anticipation. It was a privilege to get to know him and his example serves as an inspiration to us.