Maize market prospects for next season
December 2020

In this article we will give an overview of the 2020/2021 marketing season, in terms of supply and demand as well as prices.
INTERNATIONAL MARKET TRENDS
Global maize prospects for the new season are looking good, with production expected to exceed the previous season by 2,8%. However, there are less than favourable weather conditions in certain parts of the major producing countries delaying harvesting as well as sowing, this coupled with strong demand, especially from China. The impact is reflected by increasing prices for major producers like USA, Ukraine, Brazil and Argentina; as a result, we have seen price increases also in South Africa, due to the influence that production conditions and the exchange rate of those countries have on our local market.
LOCAL MARKET TRENDS
According to recent SAGIS figures, producer deliveries for maize at the end of October totalled 13,8 million tons, 7,9 million tons of white maize and 5,9 million tons of yellow maize, which amounts to about 93,6% of the estimated production by the Crop Estimates Committee (CEC) (Table 1).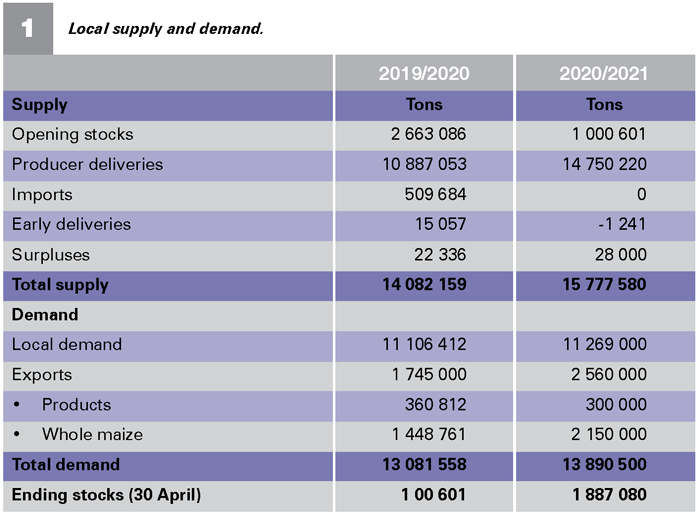 It is no surprise that we have no imports of maize, given the large crop for the season. Projected closing stocks for the end of the season (30 April 2021) are estimated at 1,887 million tons. If we process about 939 083 tons per month on average, this means we will have enough stock levels to last us two months or 61 days at the end of the season, before new deliveries arrive or we import.
Domestic demand for maize remains good. About 5,6 million tons of maize, was processed for human consumption, animal feed and gristing, this is a 4,5% increase compared to the same period last year. Looking at Table 2, white maize processing increased by 25%, with animal feed taking up most of the white maize. There has been an overall decline of 14% for processed yellow maize compared to the same time last year, with the most decline attributed to gristing.


According to the supply and demand estimates, the projected export quantity for maize is 2,150 million tons for the 2020/2021 season and 1,613 million tons has been exported already. About 475 915 tons of white maize was exported to neighbouring countries and recently to Italy. Yellow maize exports were mainly destined for Vietnam, Taiwan, Japan, Korea and our neighbouring countries (Figure 1). There is also 300 000 tons of processed maize products estimated for exports for the 2020/2021 marketing season and about 148 927 tons have been exported already.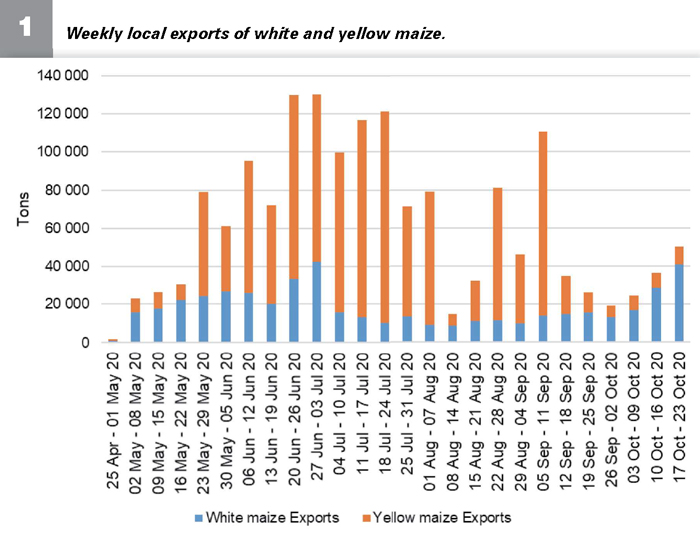 PRICE MOVEMENTS
Local prices have been on the rise for the past few months; the main driver has been higher international prices and the weak exchange rate. Since June 2020, December white maize futures prices increased by 37,8% and December yellow maize futures prices increased by 29,5% (Figure 2).
The forecast for the new season in terms of production planning is looking favourable, therefore, it is expected that the local production may be good in the 2020/2021 season. According to the latest report by the CEC, intentions to plant for 2021 is 2,746 million ha of maize which is 135 200 ha more than last season. At the time of writing this article, most of the actual plantings still need to take place so there is still a lot of production risk, therefore weather conditions will play a critical role in the next few months.
Looking at possible price movements, if a good crop is realised, prices are likely to move closer to export parity levels, but the other determining factors will be the exchange rate and international prices. If the international prices remain high and the exchange rate remains weak as current levels, we could see prices of between R2 800 and R3 400 for the 2020/2021 season.
If the international prices drop and the exchange rate becomes stronger, the local prices can come down to below R2 500. In summary, prices can range between below R2 500/ton up to R4 500/ton. The most likely scenario given current market fundamentals is that the prices should be between R2 800/ton and R3 200/ton.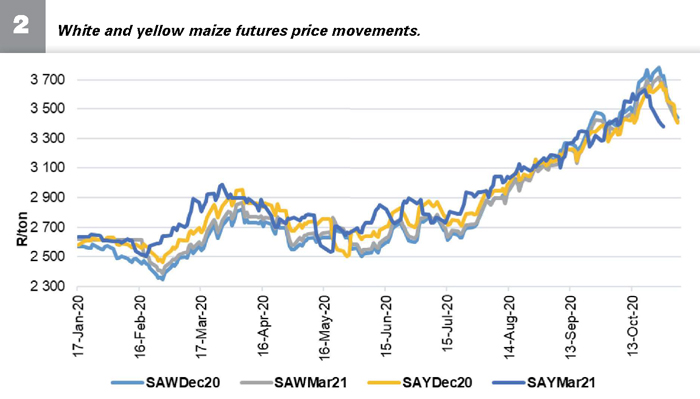 Publication: December 2020
Section: Pula/Imvula