Maak seker watter kultivars vir jou boerdery geskik is
July 2017

ESTIE DE VILLIERS, redakteur, SA Graan/Grain
Saad bly een van die belangrikste insette met die oog daarop om opbrengste en produktiwiteit in die graanbedryf te verhoog. Volgens mnr Corné Louw (senior ekonoom: Insette, Graan SA) is dit essensieel dat produsente die regte kultivars vir hul unieke omstandighede kies deur na opbrengspotensiaal sowel as risikoverspreiding te kyk. (Lees gerus sy artikel hieroor op bladsy 68.)
SA Graan/Grain publiseer jaarliks in Maart en November spesiale bylaes saam met die tydskrif, waarin die LNR Kultivaraanbevelings vir sojabone, sonneblomsaad en mielies (droëland en besproeiing) en LNR Kultivaraanbevelings vir koring (droëland en besproeiing) onderskeidelik versprei word sodat produsente 'n ingeligte besluit ten opsigte van kultivarkeuse kan maak.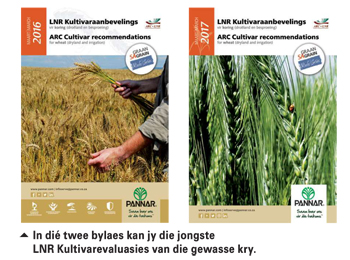 Mielies, sojabone en sonneblomsaad
Saam met die November 2016-uitgawe van SA Graan/Grain is die LNR Kultivaraanbevelings vir sojaboon, sonneblom en mielies (droëland en besproeiing) gepubliseer.
Hierin kon jy die volgende artikels lees:
Sojaboonkultivaraanbevelings vir 2016/2017;
Sonneblomkultivaraanbevelings vir 2016/2017; en
Resultate van die 2015/2016 Nasionale Mieliekultivarproewe.
Koring
Die invoegsel wat saam met die Maart 2017-uitgawe versprei is, het die volgende artikels bevat:
Report on the 2016 Cultivar Evaluation Programme under irrigation: Four new wheat cultivars included in recommendations;
Twee nuwe koringkultivars aanbeveel vir die Wes-Kaap in 2017; en
Kultivarevaluasieproewe in die somerreënvalgebied weerspieël beter seisoen in 2016.
Indien jy nie joune gebêre het vir latere verwysing nie, kan jy dit aanlyn op Graan SA se webwerf gaan lees of aflaai. Besoek www.grainsa.co.za en kliek op "Publikasies" en kliek dan "SA Graan" op die aftreklys.
Publication: July 2017
Section: On farm level