Looking back and ahead at the maize price
May 2019

As the 2018/2019 season draws to a close, it has been a bumpy ride for farmers due to many factors, with drought playing a major role, which left most of the western areas planting late or not planting at all.
The question on everyone's mind is whether there will be enough maize stocks to meet the demand for both domestic and export consumption. South Africa consumes an average of 10,5 million tons of maize per year, with average yields of about 5 t/ha.
As indicated on Table 1, maize production for 2016/2017 and 2017/2018 totalled 9,9 million tons, and 16,8 million tons respectively. According to the Crop Estimates Committee (CEC), maize production is estimated to be 12,5 million tons for the 2018/2019 season, while it is forecasted to be 10,51 million tons for the 2019/2020 season.

Looking at production in 2018/2019 South Africa had higher ending stocks due to surplus production in prior seasons, which prompted farmers to move from maize production to alternative crops. Meanwhile, due to dry conditions for the 2019/2020 season, farmers planted late, some did not manage to plant, while others opted for sunflowers, as it has a longer planting window.
Production and ending stocks for 2019/2020 are projected to be lower than the previous year by about 16% and 32% respectively, while exports are expected to decrease by roughly 57%. However, consumption is expected to increase to almost 11 million tons, meaning the country will have just about enough for consumption.
The size of production is affected by weather conditions, which affects the area planted and eventually the price of the crop. However, there are other factors that affect maize prices; this includes availability of information and the volatile rand/dollar exchange rate. If the rand is weak, prices are supported higher and if the rand is strong, this creates pressure on maize prices as seen in Graph 1.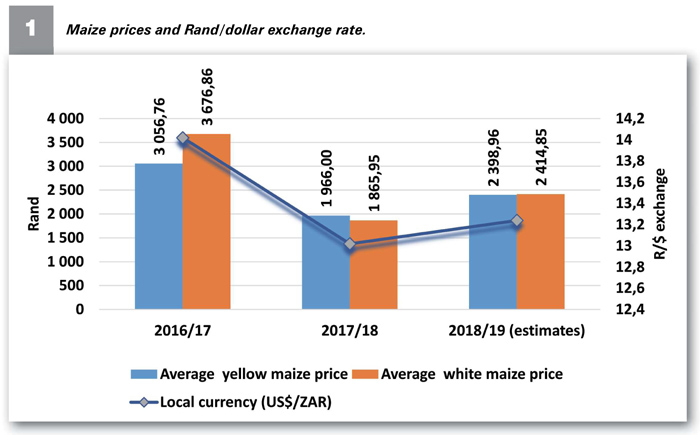 Reflecting on the two seasons prior to 2018/2019; in 2016/2017 local maize prices were trading at export parity levels of about R3 056/ton due to a shortage of maize in the market. For the better part of the 2017/2018, local maize prices traded at export parity level of R1 966/ton, mainly due to a surplus for that period.
For 2018/2019, maize prices have been trading between import and export parity with an average of R2 300/ton, however closer to export parity. Looking into the 2019/2020 season, taking into consideration, current production forecasts, anticipated ending stocks and volatility of the rand, prices are expected to move closer to import parity, which could be at 2016/2017 levels.
Publication: May 2019
Section: Pula/Imvula