Looking at your maize markets
August 2019

This article takes a brief look at the international and local maize markets with the fourth production estimates as a focus.
INTERNATIONAL PERSPECTIVE
Production of maize in 2019 is expected to increase by 2,3%, after a 1,9% drop in 2018, boosted primarily by production recovery in Argentina, Brazil and the US (Graph 1). Due to continued growth in feed demand in the world, utilisation of maize in 2019/20 is expected to exceed the current season's estimated record level by 1,7%.
For the first time in about two years, we are expecting a contraction of about 1,6% in maize trade for June/August 2019/2020, mainly due to a decrease in the EU, after they made a record purchase in 2018/2019. World ending stock-levels for 2019 are expected to fall by 5%, with continued drawdowns in China accounting for most of the decreases as well as a forecasted decrease in USA inventories.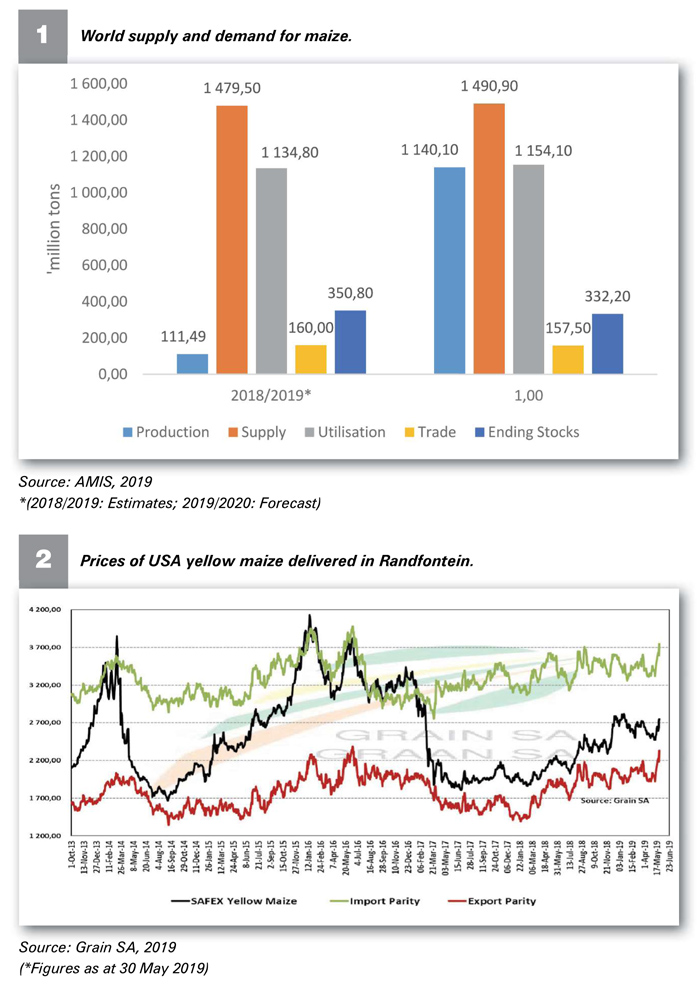 LOCAL PERSPECTIVE
According to the fourth Crop Estimates committee report, total maize production is expected to be 10,9 million tons with 5,48 million tons for white maize and 5,41 million tons of yellow maize. Compared to the third crop estimates this will be a 244 900 ton increase or a 3,81% and 0,81% increase for white and yellow maize respectively. Area estimates for 2019 remain 2,30 million hectares compared to 2,31 hectares in 2018, with an expected yield of 4,74 t/ha.
Total demand for maize is projected at 11,95 million tons for both domestic and exports, with total demand projected at 10,93 million tons. This mainly includes human consumption (5,19 million tons), animal and industrial consumption (5,48 million tons), gristing (23 500 tons) and an expected export quantity of 800 000 tons of yellow maize and 220 000 tons of processed products.
Ending stocks on 30 April 2020 is expected to be 1,46 million tons. With an average processing capacity of 891 000 tons per month, we will have about 50 days' worth of supplies to sustain the country should there be supply disruptions.
Local maize prices: Current local yellow maize prices are trading between import and export parity levels, however more closely to the latter (Graph 2). As the rand continues to weaken and global maize prices increase, export parity price levels will also increase. Safex maize prices for the current season have improved somewhat from the previous season mainly due to the dry conditions during planting season.
Publication: August 2019
Section: Pula/Imvula