Long way ahead for soybean import strategy
July 2019

This articles looks at the progress made in terms of South Africa's soybean import substitution strategy by the DTI.
A couple of years ago the DTI came up with a policy to replace soybean imports in order to develop the South African soybean industry. Significant investment was made towards the establishment of soybean and sunflower seed crushing plants, with a total capacity of 2,5 million tons.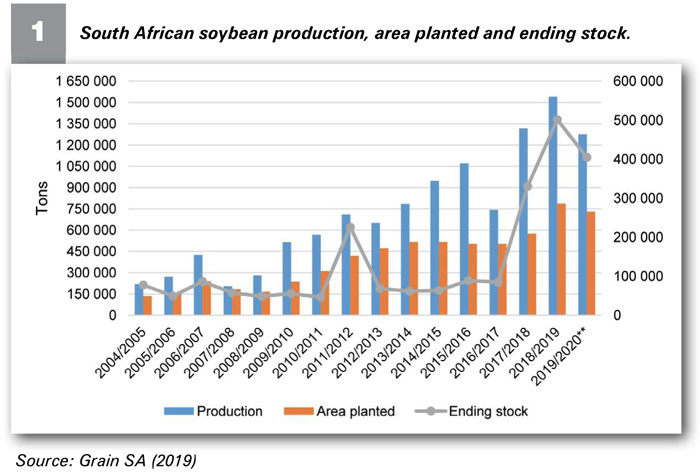 Since establishment of domestic crushing plants, there has been positive results, South Africa has seen a significant increase in production of soybeans as well as area planted (Graph 1). This also resulted in an increase in oilcake and oil production. For the 2019/2020 marketing season, South Africa is estimated to produce about 1,27 million tons of soybeans, which is more than double what we produced ten years ago.
Our dedicated soybean crushing capacity is estimated at 1,75 million tons. However, when including dual capacity plants that can crush both soya and sunflower, the maximum crush capacity is estimated at 2,5 million tons. South Africa currently only utilises about 64% of the processing capacity meaning there is a lot of potential for further growth.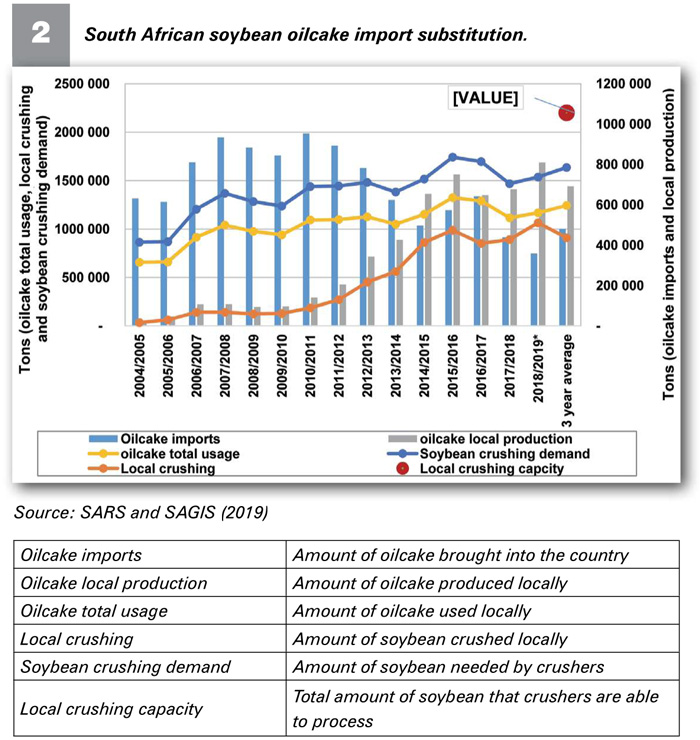 Over the years, soybean and derived product imports have decreased considerably, however not enough for the local market to reach its full potential. Graph 2 indicates that over the year's soybean oilcake production has increased and imports are slowly declining. Import substitutions have gained momentum since 2014, the amount of soybean demanded/needed to be crushed in order to fulfil the current oilcake usage still remains relatively high; however South Africa is slowly closing the gap with surplus soybean production and expansion of local processing. Local crushing capacity is definitely enough to service the current and additional demand.
CONCLUSION
Looking at the current ending stocks (Graph 1) as well as unutilised crushing capacity of soybean into oilcake (Graph 2), I would say South Africa still has a long way to go in trying to fulfil the mandate of the import substitution policy by DTI. However, farmers have shown great commitment towards increasing production despite factors like drought over the years, including the current season. The industry just needs a commitment from the importers side to start sourcing oilcake locally in order to help push up the crushing capacity of our local market and drastically reduce oilcake imports.
Publication: July 2019
Section: Pula/Imvula