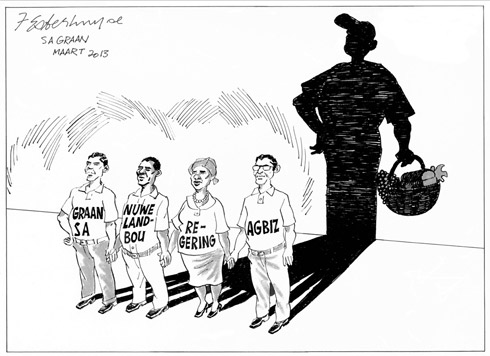 During the December holidays I read the book The conviction to lead by Albert Mohler. He discusses leadership by means of 25 principles through which to take leadership in accordance with your convictions. One concept at the end of the book remained in my consciousness:
"Real growth requires a long obedience in the same direction, staying on the field of battle and remaining there. Some people jump from one position to another, building a long resumé, but casting no shadow."
Not to cast a shadow means that you never get close enough to the sun and the heat. This was something Grain SA had to get used to – to stay close to the heat!
Our still growing relationship with the government yielded more and quicker results than we ever dreamt of. The challenge now is to persist on this road and to continue the battle to produce sustainably; achieve food security and to serve the country in a manner that can alleviate poverty via job creation.
It is, however, a pity that certain groups always find a destructive way to try and reach the same goals. The destruction of private property on farms in the name of the battle against poverty and unemployment, to me, remains something that just does not make sense.
Minister Trevor Manuel's Planning Commission put down such a good framework that was approved in Mangaung, that one may be forgiven to sometimes think that everyone understands that agriculture now need to only to sit down as a unit to develop its own plan. The opportunity is certainly there! The solution in the motor industry of about ten years ago of strike upon strike, only came after all parties got together around a table to find solutions that suited everyone, not only workers or only employers.
My mother always told the story of the Griqua eldery who, together with his wife at the grave of one of their sons who had died at the age of 78, said with a deep sigh: "Ma, I have always told you that we will never succeed in bringing up this child of ours." Now that is what I call a long term commitment!
Grain SA as an organisation is definitely in it for the long term – our history proves it. The leadership of Grain SA will persist in being the voice of reason of our grain producers in the long term; moving in the same direction and believing that the words of Albert Mohler will become true in that it will result in sustainable growth that will make a difference in South Africa.

Jannie de Villiers, CEO