Let's look at local sunflower market trends
July 2021

IKAGENG MALULEKE,
AGRICULTURAL ECONOMIST AT GRAIN SA
Over the years sunflower has gained the reputation of an ideal crop to grow under low-input and marginal cropping conditions, with consistent yields under adverse conditions. In certain production regions, sunflowers are, however, left as a last resort, waiting until the very last day to plant.
South African sunflower production has remained relatively flat over the past two decades, with a visible decline in area planted over the past five years (Graph 1). In the period under review, South Africa produced decent sunflower crops, including seven-peaks above the 800 000 ton mark.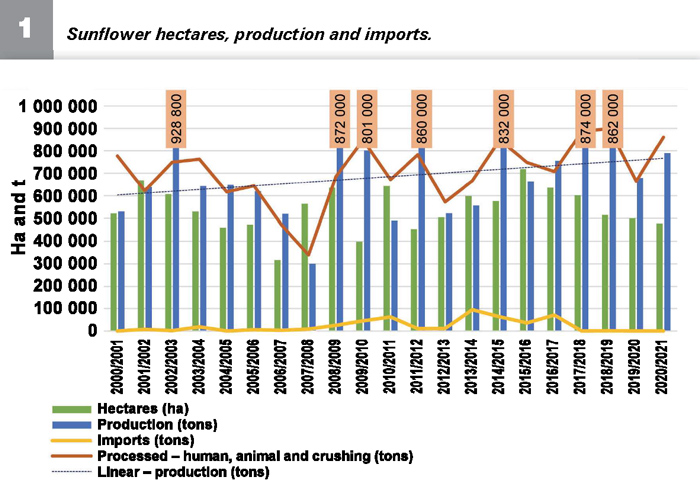 Fundamentally, when prices increase towards import parity levels, expansion occurs, but this typically causes a correction in the market and prices to decline to export parity levels. Consequently, profitability deteriorates and producers start cutting back on the sunflower area. According to the Crop Estimates Committee (CEC), the third production forecast for 2021 sunflower seed is estimated to drop by almost 9% to 696 290 tons compared to the final estimate of 788 500 tons for 2020. The area estimate for sunflower seed is 477 800 hectares, about 4,5% lower than the previous season, while the expected yield is 1,46 t/ha.
The bulk of sunflower seeds are crushed for edible oils and human consumption, and a small portion for animal feed. Due to the higher oil yield of sunflower seed, it is mainly used for human consumption. Sunflower meal, a by-product of the oil extraction process, is sold to local animal feed manufacturers, as it is generally regarded as a low-value product that does not compare well to soybean meal in terms of nutritional value and fibre content.
Sunflower processing has been fluctuating over the years, but trending upward (Graph 1). Demand for sunflower exports is minimal. Over the past five years, sunflower imports have decreased significantly and this can be attributed to the increased crushing capacity locally and the use of locally produced sunflower. During years of lower sunflower production, the activities at crushing plants are reduced and the refineries import more crude oil, as it is more cost-effective than importing sunflower seeds.
Local sunflower seed prices have been trading at export parity levels from the beginning of 2020 (Graph 2), putting downward pressure on the area planted. Sunflower seed prices are supported by increased export parity price levels, mainly driven by higher global oilseed prices and a relatively weak domestic exchange rate. As a result, local sunflower seed prices are currently trading 42% higher than a year ago from an average of R6 000/t in April 2020, to R8 500/t in April 2021.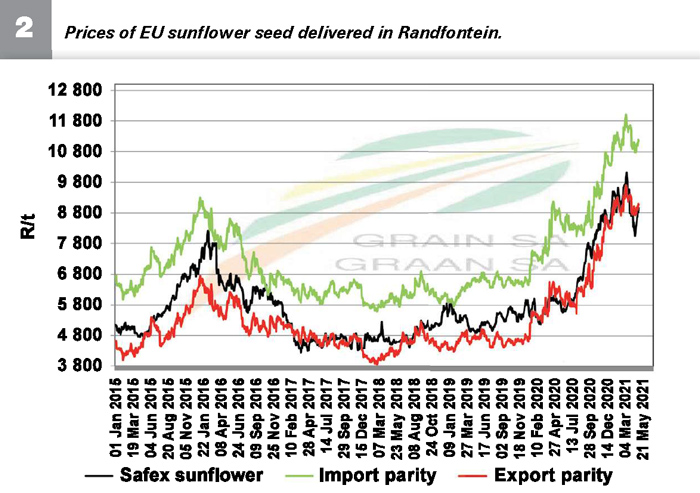 If prices continue on an upward trajectory, it can be expected that the sunflower area will move back to the trend line and increase for the 2021/2022 marketing season. As the season continues, it is expected that sunflower seed prices will continue to trade at export parity levels, influenced by the international price of oilseeds, which have reached new highs and the sharp rise in the prices of sunflower oil has limited the demand. South Africa's volatile exchange rate, is also something to keep an eye on.
Publication: July 2021
Section: Pula/Imvula