Bly jy by...of mis jy iets?
February 2018


Alzena Gomes, skakelbeampte, Graan SA
Graan SA is opgewonde om die afhandeling van die organisasie se "nuwe" en opgekikkerde webwerf aan te kondig. Die opgedateerde webwerf bevat navigasie­veranderinge met aftrek-spyskaarte vir beide die lessenaar- en mobiele weergawes.

Die struktuur van die inhoud is verbeter, sodat elkeen tydens 'n vinnige besoek 'n beter oorsig oor die webwerf kan kry. Daar is verder 'n magdom van kleiner, maar treffende veranderinge – alles om jou ervaring van die Graan SA webwerf soveel aangenamer te maak.
Toe met die projek begin is, het ons groot planne gehad – van die opdatering van Graan SA boodskappe tot 'n manier om gebruikers te help om van een plek na die volgende te beweeg sonder om die belangrikste inhoud oor te slaan.
Ons uiteindelike oplossing was om die webwerfinhoud strategies te verdeel. Ons het 'n "Wat's nuut" en 'n "Graan SA in die nuus" geskep, om – met die eerste oogopslag – 'n oorsig van die belangrikste interne en eksterne nuus te gee.
Die tuisblad bied steeds die nuutste verslae en markoorsigte en voorsien selfs 'n sosiale mediastroom van Facebook, Twitter en Instagram vir die besoekers wat dié kanale wil dophou, maar nie self rekeninge in die digitale wêreld wil skep nie.
Die Graan SA fokusareas, naamlik graanekonomie, graannavorsing en landbou-ontwikkeling, is slegs 'n klik ver en bevat relevante, tydige en toepaslike inligting vir die Suid-Afrikaanse graanprodusent.
Laastens het ons nuwe grafika geskep: 'n Galery vol foto's met 'n paar opdaterings wat die webwerf meer gebruikersvriendelik gemaak het.
Besoek gerus die webwerf by www.grainsa.co.za.
Graan SA Toep
Sedert die bekendstelling van die Graan SA Toep op die streeks­vergaderings verlede jaar het die bemarkingspan die toep met 'n mag­dom insette aangepas om die behoeftes van ons produsente aan te spreek.
Die toep bied aan produsente die geleentheid om self markinligting te genereer, sowel as om benchmarking toe te pas. Tans bied die toep die geleentheid om die volgende inligting in te voeg en om dit op nasionale en plaaslike vlak te meet:
Plantintensies;
plantvordering;
oesomstandighede;
oesvordering;
reënvalsyfers;
insetkostes; en
Safex-pryse.
Dié inligting bied aan die produsent die geleentheid om goeie bemarkingsbesluite te neem, maar ook om te verseker dat die reg­te prys vir insette betaal word. Verder word daar ook van tyd tot tyd gebruik gemaak van addisionele verslae. Dit sluit in vraelyste oor waar kommandowurms voorgekom het, of produsente finansiering ontvang, hoeveel produsente nog oordragskuld het en hoe saadkostes vir die komende seisoen vergelyk.
Die belangrikste funksie van die toep kan slegs effektief werk as produsente die inligting voltooi en voortdurend gebruik.
Produsente is welkom om die bemarkingspan te kontak indien die behoefte bestaan dat ons die toep by studiegroepe of boere­verenigingvergaderings demonstreer. Besoek gerus app.grainsa.co.za op jou internetblad om die toep af te laai.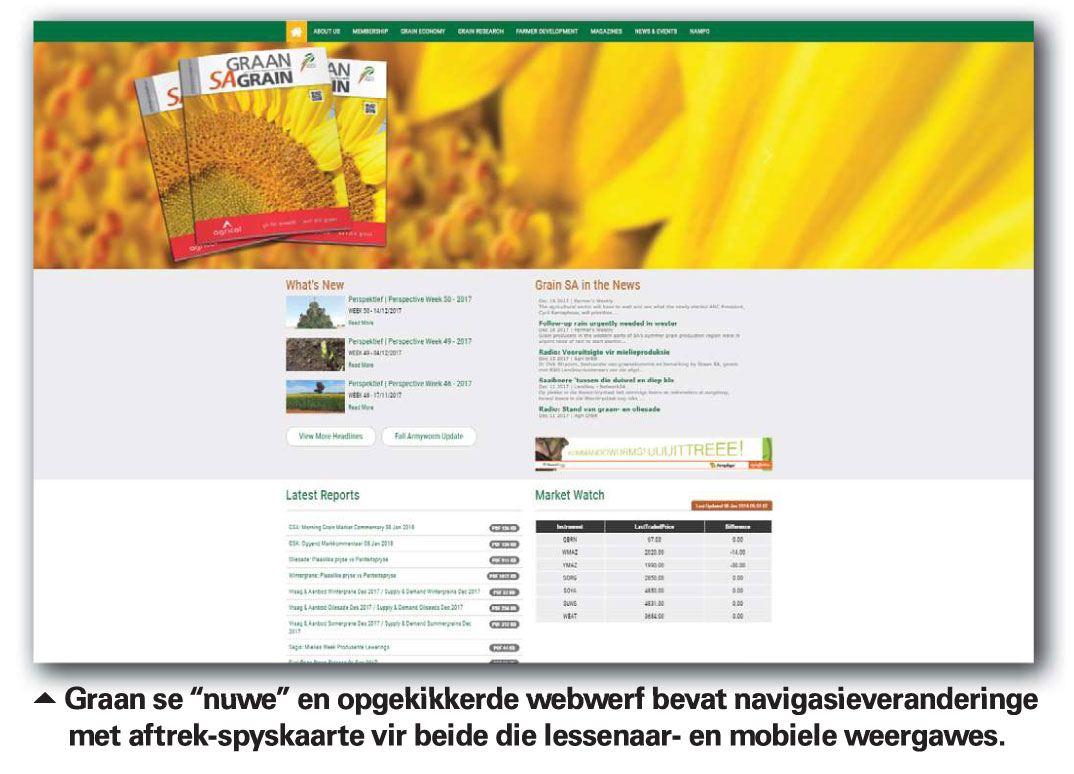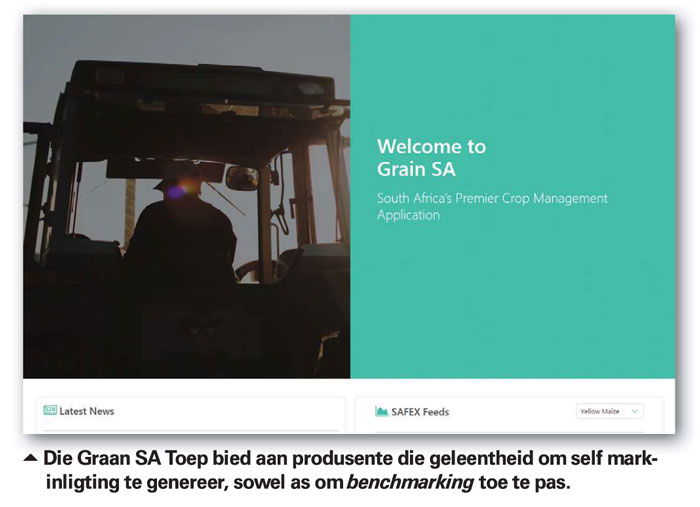 Publication: February 2018
Section: Grain SA