Lazarus Mothusi – farming is about family and passion
November 2015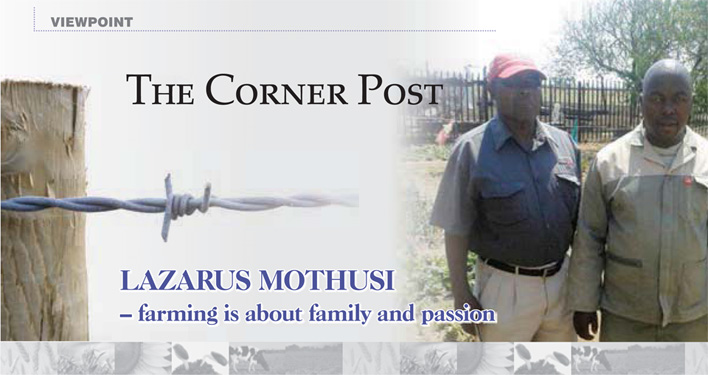 Walter Schirra was one of the first Americans to enter space and said the following about fathers and sons: "You don't raise heroes, you raise sons. And if you treat them like sons, they'll turn out to be heroes, even if it's just in your own eyes."
For Lazarus Mothusi who farms near Weltevreden in the Mooifontein area, this is true. His son, Jomo, is his hero as he has not only become his right hand on the farm, but also his eyes since losing his sight a few years ago. Going blind has however in no way deterred Lazarus from growing his farming enterprise or losing his passion for farming. "Farming has always been part of my life. It is who I am!"
Lazarus Leratoeng Mothusi was born and raised in the Mofufutso settlement in the North West Province. He inherited an innate passion for farming from his parents, who were cattle farmers. In 1965 he married his sweetheart, Mamojaki Ruth Mashudute and together they raised nine children two of which have sadly passed away. Apart from Jomo, the other six are all employed in urban areas. Jomo has stood by his father through thick and thin and has made sure the farming enterprise continues to be successful. "He is the one who is always prepared to work long hours to ensure that everything runs smoothly on the farm especially when I have to fulfil my duties as assistant to the chief of the Weltevreden settlement," he explains.
Lazarus started crop farming in 1996 and currently he and his son have approximately 200 hectares of communal ground as well as a further 300 hectares on a farm which they acquired from the Department of Rural Development and Land Affairs to cultivate maize and sunflower and raise their cattle and sheep.
As a beginner farmer he harvested approximately 4 tons of sunflower on 15 hectares. "To me this was very good and I considered myself to be very fortunate," he shares this early memory. After meeting Cois Harman (previously from Grain SA) he gained enough knowledge through Grain SA's training programmes to increase the yield to 16 tons and has improved on this since then. "Obviously in dry seasons the harvest is much lower, but still better than before Grain SA improved my knowledge of farming."
Thanks to Grain SA's input in areas like soil preparation, cultivar choices, fertilisation and weed control, his knowledge of farming has grown tremendously. As every farmer knows, there are many challenges in farming – from financing to the natural circumstances that have to be faced every season. Lazarus explains that Grain SA has even instructed him on how to work with nature and to save and preserve moisture to allow for times when rainfall is lower.
He would like to thank his previous mentor John Mathews and Thabo (Du Toit van der Westhuizen) the current provincial co-ordinator in the North West Province who have played the biggest part in developing his farming skills. "Grain SA has also shown me how to do honest business and to adhere to the principles embedded in me by my parents' upbringing," he says and adds, "I am very proud to be a commercial member of Grain SA and will always be grateful to this organisation for making me a better farmer."
One of his proudest moments as a farmer was when he was announced as winner of the Grain SA Developing Grain Producer award in 2006. This award motivated him to work even harder to make a success of his farming enterprise.
Lazarus hopes that agriculture in South Africa will grow so that farmers can firstly provide food security to our country and secondly supply food to the rest of the world. To him politics have no place in agriculture and the focus of the country's leaders should be on making sure a nation is fed.
What advice does this successful farmer have for emerging farmers?
The opportunities in agriculture are endless. Work hard and make sure you receive sufficient training before you begin.
Be willing to learn from others.
Develop a passion for agriculture. Make it part of who you are.
Be sure to first fulfil all your financial obligations before purchasing luxuries.
This month's edition of The Corner Post was authored by Louise Kunz, Pula Imvula contributer.
For more information, send an email to louise@infoworks.biz.
Publication: November 2015
Section: Pula/Imvula