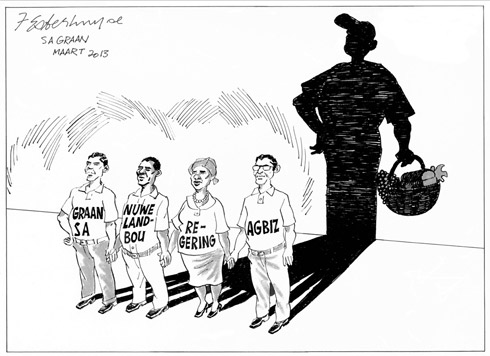 Ek het gedurende die Desembervakansie die boek The conviction to lead van Albert Mohler gelees. Hy bespreek leierskap aan die hand van 25 beginsels om via jou oortuigings leiding te neem. Een konsep aan die einde van die boek het my lank bygebly (vry vertaal):
Ware groei vereis lang en aanhoudende gehoorsaamheid in dieselfde rigting en om op die slagveld van die lewe te bly. Sommige mense spring rond van een posisie na 'n ander om in die proses 'n lang CV op te stel, maar bly nooit lank genoeg êrens om 'n verskil te maak nie (casting no shadow).
Om nie eens 'n skaduwee te maak nie, beteken dat jy nooit na genoeg aan die son en hitte kom nie. Dit is iets waaraan Graan SA gewoond moes raak – om naby aan die hitte te bly!
Ons steeds groeiende verhouding met die regering het groter, meer en vinniger vrug opgelewer as wat ons ooit gedroom het. Die uitdaging is nou om op hierdie pad te volhard en voort te gaan met die stryd om volhoubaar
te produseer, voedselsekerheid te bewerk en die land te dien op 'n wyse wat armoede kan verlig via werk - verskaffing.
Dit is net jammer dat sommige groepe altyd 'n destruktiewe metode vind om dieselfde doelwitte te probeer bereik. Die vernietiging van privaat eiendom op plase in die naam van 'n stryd teen armoede en werkloosheid, wil maar net nie vir my sin maak nie?
Minister Trevor Manuel se Beplanningskommissie het so 'n mooi raam - werk neergesit wat in Mangaung goedgekeur is, dat 'n mens sou dink dat almal dit kan insien dat landbou nou net as 'n eenheid om die tafel moet gaan sit en ons eie plan ontwerp. Die geleentheid is beslis daar! Die oplossing van staking op staking in die motorbedryf sowat tien jaar gelede, het ten einde gekom nadat almal om 'n tafel gaan sit het en oplossings vir al die partye gevind het, nie net die werkers of werkgewers nie.
My ma het altyd die storie van die ou Griekwa vertel wat saam met sy vrou by die graf van hulle een seun gestaan het wat op 78 oorlede is en diep gesug en gesê het: "Ma, ek het altyd vir jou gesê ons gaan hierdie kind nooit grootgemaak kry nie." Dit is nou 'n langtermynverbintenis!
Graan SA as organisasie is beslis daar vir die lang termyn – ons geskiedenis wys dit. Graan SA se leierskap sal volhard om in die lang termyn die stem van redelikheid van ons graanprodusente in dieselfde rigting te wees en dan glo ons dat die woorde van Albert Mohler waar sal word, dat dit volhoubare groei sal lewer wat 'n verskil in Suid-Afrika sal maak.

Jannie de Villiers, Uitvoerende hoofbestuurder