Landbouer, maar ook skepper en rymelaar
July 2017

JOHAN SMIT, besturende redakteur, SA Graan/Grain
Die fier en regop oom wat ons buite die voorstoep van hul dorpshuis op Bethlehem ontvang, lyk alles behalwe sy 90 jaar. Sy gedagtes is georden en sy onthou is nog skerp. Ons gesels oor 'n stomende koppie koffie oor sy boerderyloopbaan van meer as 60 jaar én oor sy passie vir skryf en dig.
Toe oom Dietz Meiring (90) en sy vrou Kokkie se seun, Pieter, teen laat hoërskool aandui dat hy eendag wil boer, het oom Dietz die gedig, Wil jy boer my seun?, vir Pieter geskryf. Na 35 jaar hang die oorspronklike gedig in Pieter se studeerkamer op Nonnashoek – waar hy reeds die afgelope 22 jaar boer.
"Oom Dietz was nog altyd lief vir skryf: Altyd 'n rympie of 'n ding. Hy het gereeld vir my briefies gelos as hy lande toe is," vertel tannie Kokkie. Hy is geen digter nie; eerder 'n rymelaar, voeg oom Dietz vinnig by. Meer as twee bundels vol gedigte, limerieke en kwinkslae wat hy tydens ons besoek deel, getuig van sy toewyding om emosie, ervaring en gevatte humor in woorde vas te lê.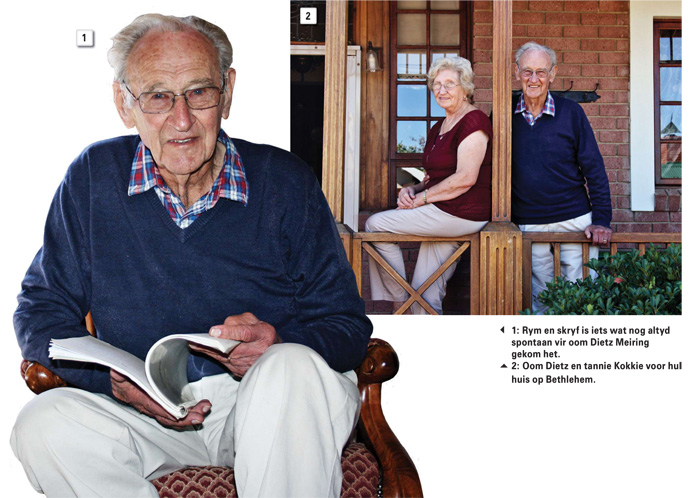 Buiten 'n suksesvolle boerdery wat hulle bedryf het, het sy kreatiwiteit ook oor die jare uiting gevind in houtwerk, klipwerk en tuinuitleg.
Hy is gebore en getoë op Nonnashoek en wou eintlik 'n landmeter word, want hy was goed in wiskunde. Op versoek van een van sy broers, het hy hom as jongman by sy pa in die boerdery op Nonnashoek aangesluit. "As jy suksesvol met iets is, sal jy lief raak daarvoor," vertel hy.
Die Meirings het hoofsaaklik saadmielies geproduseer, aartappels geplant en met Bonsmaras geboer. Oom Dietz skryf sy boerderysukses toe aan die feit dat hy en tannie Kokkie saam geboer het. "Sy is 'n uitstaande kontroleerder," vertel hy oor die nooientjie wat hy destyds op die atletiekveld op Bethlehem raakgesien het en al vir 57 jaar mee getroud is. "Ons ken mekaar se tekortkominge en sterk punte," vertel hy met 'n glinster in die oog. Hul seun, Pieter en drie dogters is uit die huwelik gebore.
As hy die gedig – wat vantevore wyd in die landboumedia gepubliseer is – vandag moes skryf, wat sou hy verander het? "Ek sou niks bysit of weglaat nie, want elke deel is steeds relevant. Dit sal nie oor 20 jaar meer so wees nie, want gewone produsente verdwyn heeltemal van die toneel. Mega produsente stel 'n spesialis aan vir elke afdeling en hyself is dan net die oorhoofse bestuurder," reken oom Dietz.
Watter eienskap van landbouer wees wil hy uitlig? "Die belangrikste ding is geloof – jy moet dit kan vat as jy teëspoed optel. En om lewenslank 'n student te wees, om op hoogte te bly van nuwe ontwikkelings en om gewillig te wees om te leer van mense wat meer as jy weet."
Is daar iets op sy emmerskoplys wat hy nog wil bereik? Nee, sê hy, hy het sy lewe vol geleef en alles gedoen waaroor hy gedroom het. Oom Dietz sê ons is almal op 'n trein wat een of ander tyd deur die donker tonnel van die dood moet gaan – niemand weet egter hoe ver jou trein van die berg af is nie, maar hy is nie bang vir die berg nie.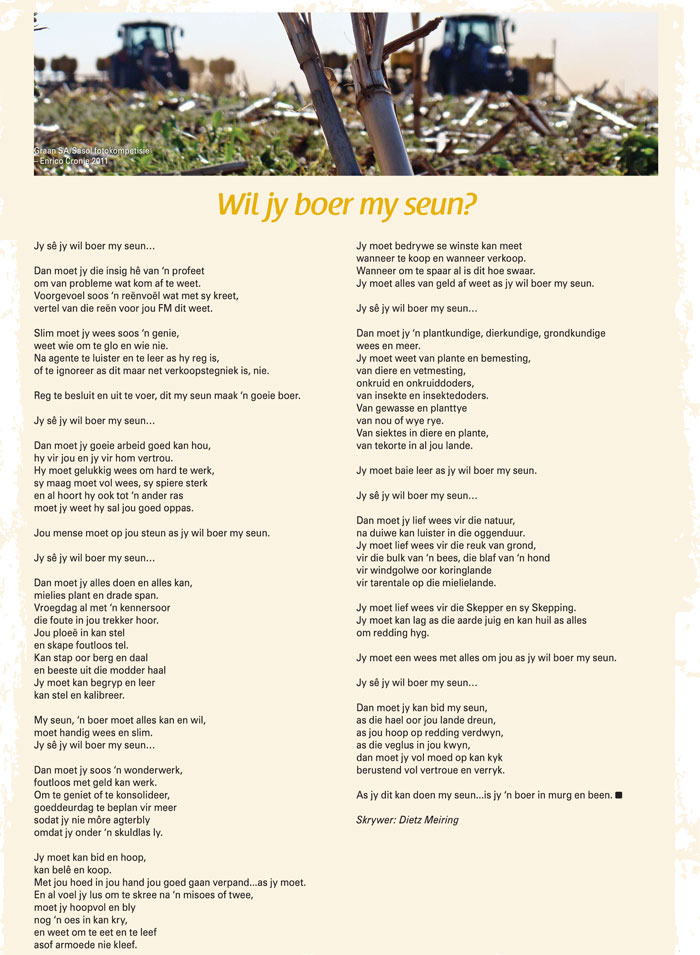 Publication: July 2017
Section: Relevant