Land reform: 'Government can't do it alone' – Leona Archary, acting DG of the DRDLR
March 2017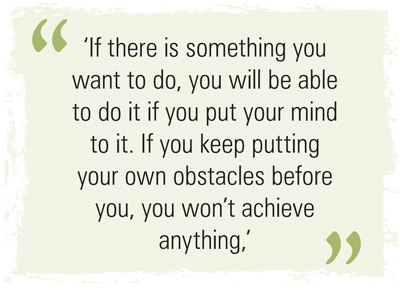 LOUISE KUNZ, SA Graan/Grain contributor
Henry Ford, the American industrialist who founded the Ford Motor Company, said, 'Coming together is a beginning; keeping together is progress, but working together is success.' With a shared passion for rural development, Grain SA and Mrs Leona Archary, acting director-general of the Department of Rural Development and Land Reform (DRDLR), are definitely a winning combination.
Archary, the deputy director-general, took over the DG duties from Mr Mduduzi Shabane in December last year. Her motto in life is that nothing is impossible. 'If there is something you want to do, you will be able to do it if you put your mind to it. If you keep putting your own obstacles before you, you won't achieve anything,' says this positive mother of two university students. And her mind is set on diminishing inequality and poverty.
She hails from humble beginnings. Raised in KwaZulu-Natal by a single mom, who worked as a machinist for a designer wear company, she completed her schooling and tertiary studies in Durban. She studied at the University of KwaZulu-Natal towards a BCom degree and then started working at the Department of Education in KwaZulu-Natal in 1991.
Archary soon realised that she needed something more challenging and applied for a position at the Department of Land Reform in Mpumalanga. With her husband of five years, she relocated to Nelspruit at the end of 1996 where she was appointed as a senior administrative officer supporting the different components of the department in terms of the legislative framework and submissions that had to be prepared.
Labour tenancy later also became part of her portfolio. She was promoted to director within three years and was eventually appointed as one of the chief directors, heading the province of Mpumalanga regarding land reform.
Career and passion come together at the DRDLR
Although she had no previous exposure to agriculture whenshe joined the Department of Land Reform, she was engaging with producers more frequently as Mpumalanga was which was greatly affected by issues of farmtenancy.
She recalls, "The Peoples" stories touched my heart and land reform became a passion of mine."
In further studies of her Master's Degree in Management at the University of Witwatersrand (which she obtained in 2012) this very passion led her to write a dissertation on land reform. Entitled, 'Sustainable land reform in the Ehlanzeni District, Mpumalanga' her thesis was written to further understand the needs and dynamics of the rural communal areas.
'When I wrote it, there was a lot of negativity about the land reform transfers. By transferring land which is not productive, we are influencing the whole agricultural industry. When I did my
dissertation, I wanted to see how one can develop sustainable models for land reform,' she discusses this very relevant topic.
Some of the sustainable programmes she proposed at that stage were implemented by the department. She believes that her dissertation provided a deeper understanding of the different factors impacting on the sustainability of the land redistribution programme, like the importance of training and skills development, as well as partnerships between the private and public sector.
In January 2016, she was invited to Puebla in Mexico, to participate in the International Congress of Territorial Inequity and Development.When I wrote it, there was a lot of negativity about the land reform transfers. By transferring land which is not productive, we are influencing the whole agricultural industry. When I did my dissertation, I wanted to see how one can develop sustainable models for land reform,' she discusses this very relevant topic.
As deputy director-general, her focus was mainly on rural infrastructure development. She was also given the opportunity to manage many of the strategic programmes, like the Agri-parks programme. The portfolio of DG is however one which entails the whole spectrum of the department and deals with various issues amongst which are land redistribution and development, land restitution, land tenure, labour issues and rural development.
Archary believes the fact that she came through the ranks, from the lowest level up to her position as acting DG, has given her the necessary communication skills for this position – to be able to interact with everyone from farm dwellers to the private sector. Other expertise she brings to the table are her vast knowledge of land reform, her understanding of the complete sector and that she has had exposure to high level strategic challenges that face the country and her leadership qualities.
Sharing experience and passion
This acting DG sees the strategic partnership with Grain SA as a long-term one. As government, they understand clearly that the transformation process they want to realise, cannot materialise with government's actions alone. The pursuance of public/private partnerships with key stakeholders is of utmost importance.
'It is essential to partner with an organisation like Grain SA, who has a lot to offer. They have the necessary expertise since they have been involved in this field for numerous years,' she adds. 'Grain SA has built rapport with producers over the years which can carry us a long way. The fact that they have already paid the school fees and know which are viable solutions to implement, also make them a valuable partner.'
Archary adds that the passion Grain SA has for changing the space of agriculture is clear. 'We live in a country where we have to allow transformation to happen if we are to progress and we are dependent on one another to make sure that it does.'
The kind of partners with whom she wants to share her vision are people who have the passion one sees when Mr Jannie de Villiers (CEO: Grain SA) and Ms Jane McPherson (programme manager: Farmer Development, Grain SA) speak about agricultural development. She believes it was this passion that led them to apply to the Jobs Fund, where this valuable partnership was formed.
All the programmes introduced by this department have partnerships at the core of what they want to do and achieve. 'If we try and do it as government alone less people will benefit.
If we do it together and partners understand the common ground that they are working from, I am certain that we will make a huge difference in the country. Land reform does not always have to be a controversial issue – we are working together to build a better future for our children.'
DRDLR projects and agricultural issues
The DRDLR has a critical role to play in resolving the triple challenge of the economic cluster faced by South Africa: Poverty, unemployment and inequality. Several projects have been launched to address these issues.
According to Archary the issue of inequality is directly addressed with the land reform programme. One of the key priorities that will be addressed in the short term is the 50/50 policy framework to strengthen the relative rights of people working on the farms.
'We have had some very good proposals submitted to the departement and we believe that through these the programme can be successful. Once again, it is a model which is strengthened because of a partnership between the owner and the people who are living and working on the farms.'
Another project that is enjoying serious attention is the '1 household, 1 hectare' to alleviate inequality and poverty and transform rural economies. This campaign hopes to inspire communities by instilling a sense of belief within them that it is in their hands to work towards self-sustainability. It is obvious that lack of food affects every developmental area of a person. This programme can contribute to addressing the challenges South Africans face concerning food security.
A project which is very important to Archary is the Agri-parks programme, designed to revitalise agriculture and the agro-processing value chain, whereby producers can be developed and given an opportunity within the agricultural chain. It provides networks of contacts between producers, markets and processors as well as the infrastructure required for the transforming industries.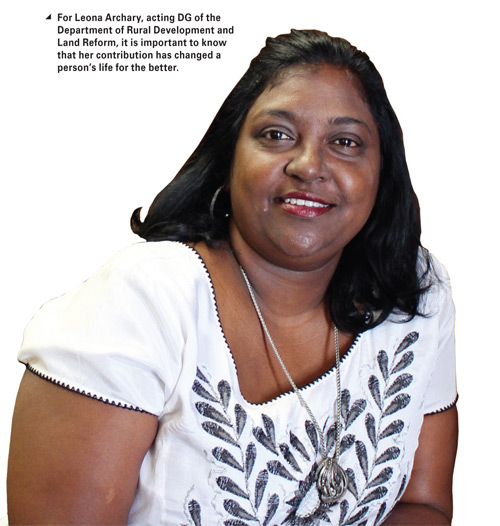 'Things can however not happen overnight, but we have to stick to our plan,' she says about this model created to drive transformation. She is convinced that agriculture is the one area that can kick-start the economy, but realises that the challenge lies in ensuring that this industry becomes attractive to young people. She strongly believes that the Agri-parks can play an important role in this area.
Paying it forward
Whether or not she becomes the new DG, it is important to her to know that her contribution has changed a person's life for the better. She firmly believes in the 'pay it forward' principle and knows that if every South African paid it forward, this simple principle will lead to a changed South Africa.
'We can't all reach the highest level, but if you have made a difference to someone else's life by what you do, you have reached your goal. Minister Gugile Nkwinti, minister of the DRDLR, always says we should be honoured to serve the public where we can make a difference and not just see it as a job.'
The COO of Facebook, Sheryl Sandberg said, 'Leadership is about making others better because of your presence and making sure that impact lasts in your absence'. If her efforts are successful, the impact Leona Archary makes will surely last in her absence as well.
Publication: March 2017
Section: Relevant